Make your photos impressive with these best Android photo editing apps of 2017
Yes, it's all about Best Android Photo Editing Apps of 2017. If you are looking for best photo editing apps, then you're at the right place. Make your pics even more interesting and eye-catching with some effects. And yes, these apps are featuring creative photo editing tools that make easier to edit your pics because you don't need to do photoshop or computer to touch up your photos nowadays.
Nowadays, people are using this kind of apps and share them instantly on social media such as Instagram and Facebook. Instagram becomes craze today. Well, there are hundreds of photo editing apps available on Play Store so all are not best Android apps. It becomes difficult to find best one. Last we discussed how to find the best Android apps from Google Play Store? Well, let's have a look at the best Android photo editing apps of 2017.
Snapseed
Snapseed is one of the best photo editing apps of 2017 and it's among the widely-used apps. The app is developed by Google and it's available with 4.5 average ratings on Play Store. This is a very professional photo editing app that allows tons of features to edit your pics and share with your friends and family.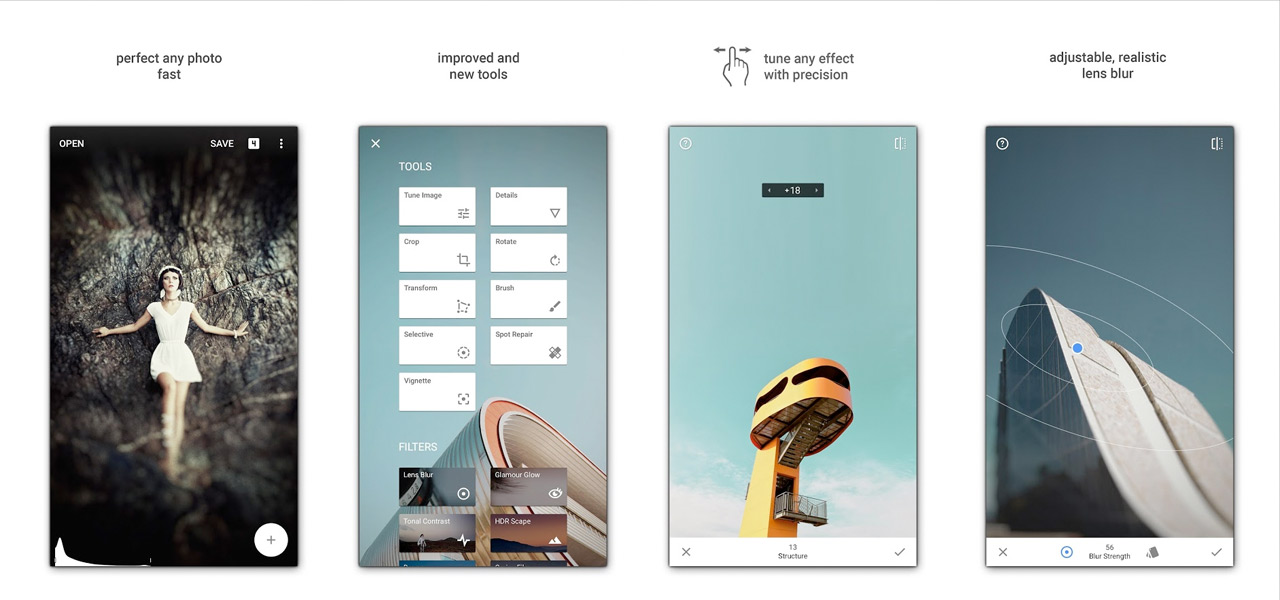 The Snapseed is free to download and use but if you want some additional features then you've to pay per item. It gives users ultimate control over their images by including a host of sliders capable of altering a photo's vignette, blur, temperature, and many others.
Instagram
Well, Instagram needs no introduction. It is one of the most popular social media apps and we must say it is more than a photo editing app. Just click a photo or choose from your device's gallery then edit them with filters and effects. The app supports many filters and creative tools, ability to share photos and videos with friends, then they will like or comment on your pics or videos. You can also post an Instagram story with some text and drawing tools.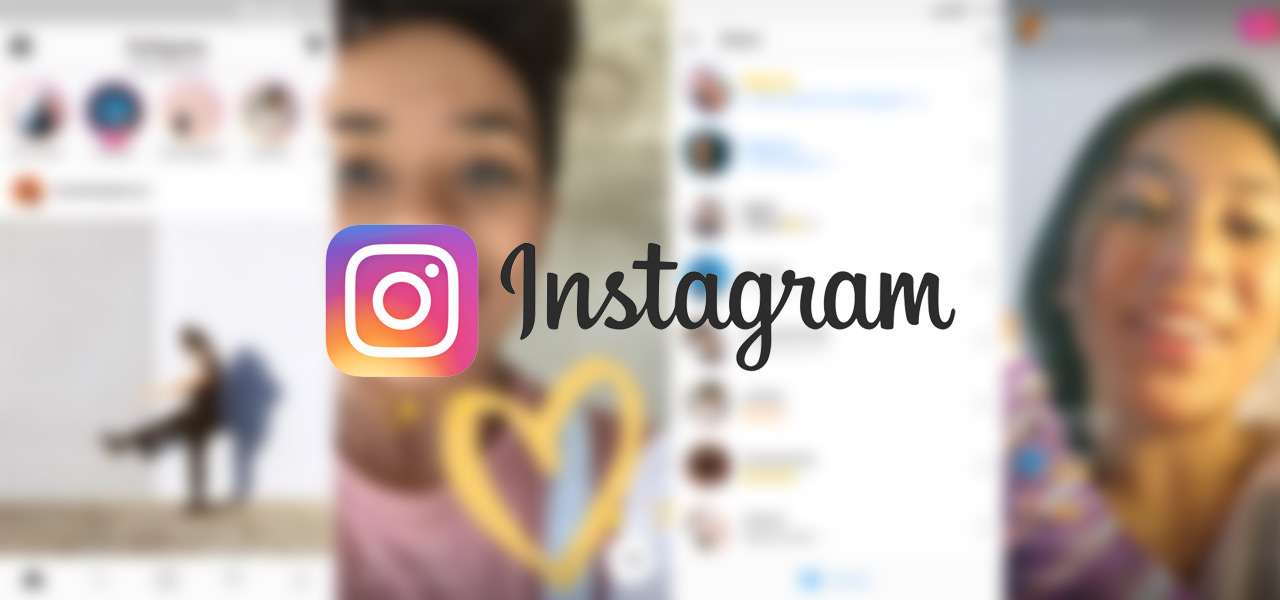 Follow your friends and family to see what they're up to, and discover accounts from all over the world that are sharing things you love. Post photos and videos you want to keep on your profile grid. Edit them with filters and creative tools and combine multiple clips into one video.
PicsArt – Photo Studio
PicsArt is also one of the best Android photo editing apps of 2017. It's a free photo editor. PicsArt is the right photo editor for everyone. PicsArt has all the tools that you need. Make your selfies beautiful with simple tools to remove blemishes and red-eyes or to whiten your teeth. It features many tools, effects, collage maker, camera, free clipart library, millions of user-created stickers and drawing tools.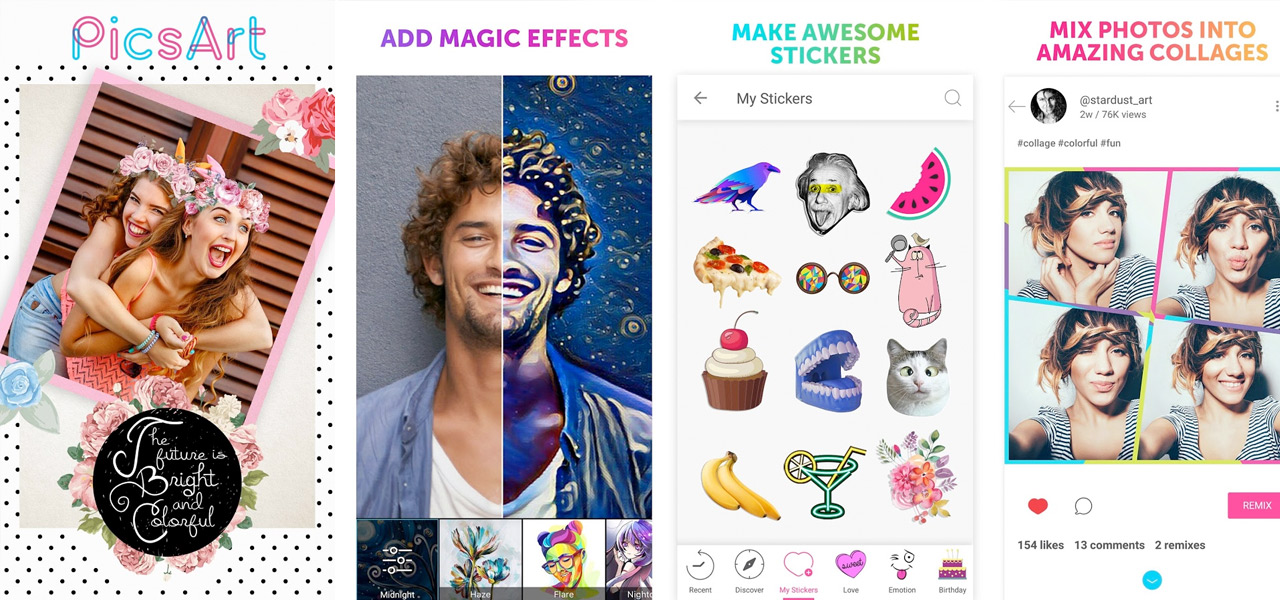 One of the best features is that you can layer multiple photos and blend them together to get a unique look, using Double Exposure. You can share your edited pics directly with your friends via social media networks such as Instagram, Facebook, Twitter, or email. You can resize images quickly and easily after editing.
Pixlr – Fre Photo Editing App
Pixlr - Free Photo Editing App deserves to be on the Best Android Photo Editing Apps of 2017 that comes with plenty of options to fix your photos with amazing lighting effects. You can unlock your creativity with this app. It features the fun new photo challenge app every week where you can show your creative skills.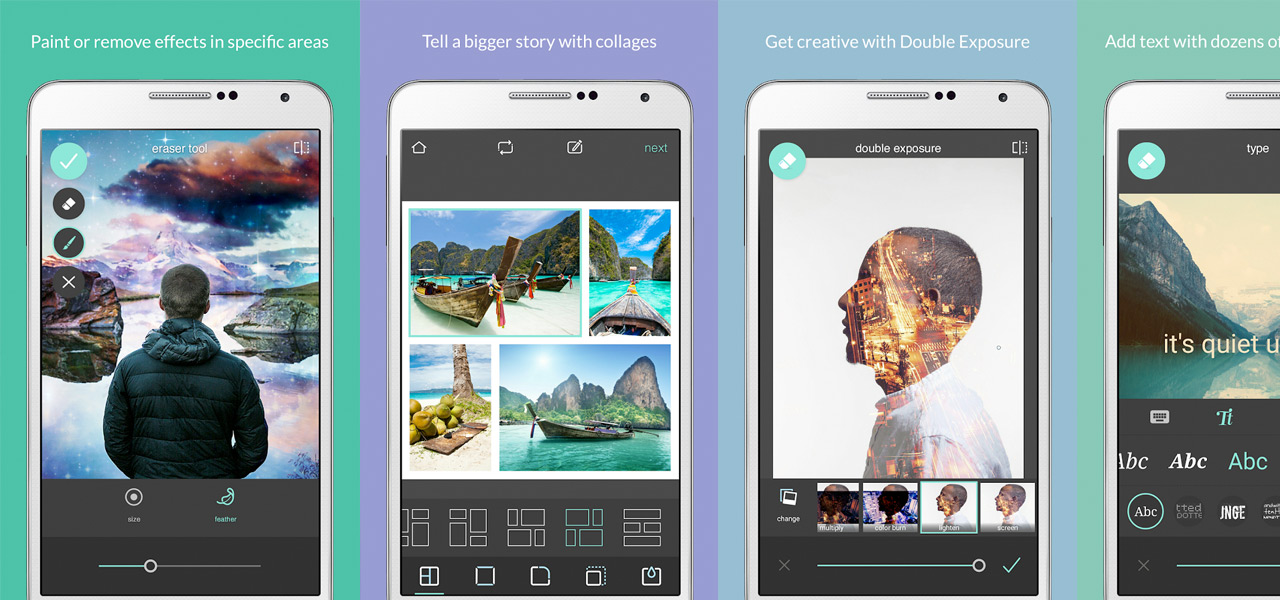 Pixlr features the fun new photo challenge app every week. You can fine-tune images and see the results in real-time, not to mention adjust, crop, resize, use red-eye removal, tones and more. Then share images with ease. It has a lot of tools and it's all free.
Cymera
And, our last pick in the list of Best Android Photo Editing Apps of 2017 is Cymera. You can write messages and drawings directly to your photos much like Snapchat and Photo Editor. The app comes with many photo editing features and the inbuilt camera comes with 7 lenses concept.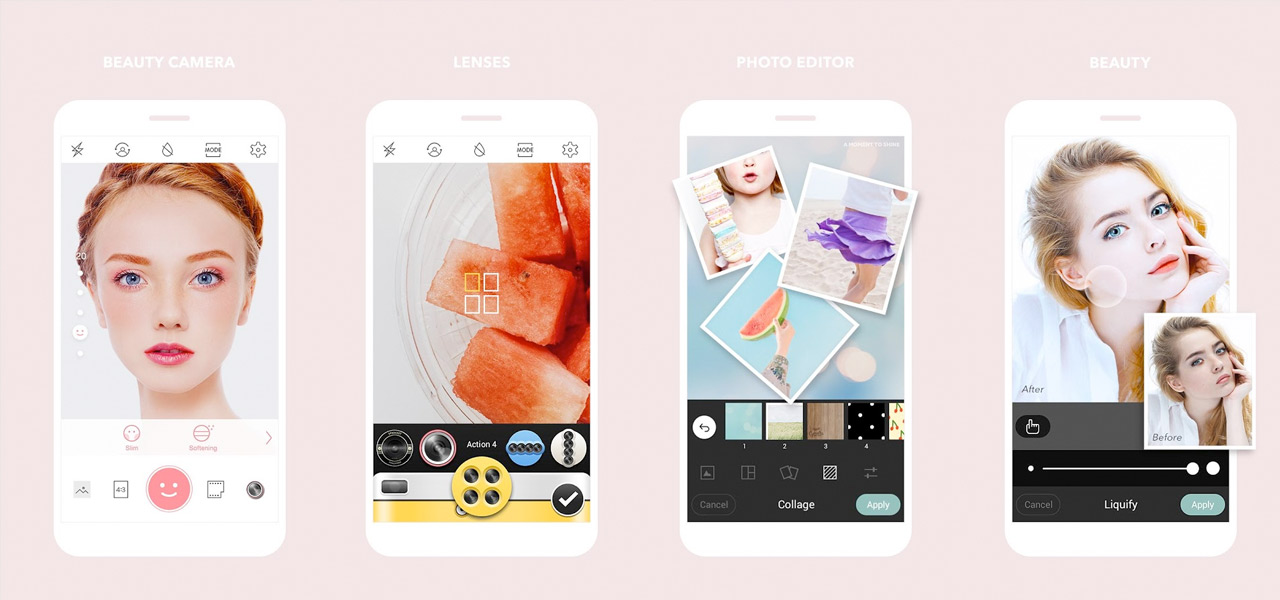 Accessorize your photos with stickers, masks, lighting effects, and various framing options. So, download the Cymera and enjoy hundreds of filters, stickers, backgrounds, text feature, layout, emojis, beauty tools, hairstyles and more! It's a powerful photo editor and an all-in-one beauty camera. You can take perfect instant selfies with 130 different tools.
Final Words:
So, these are the best photo editing apps of 2017 that makes your pics impressive with few easy steps. These top 5 best photo editing apps for Android users deserve to be on this list. If we missed any best photo editing apps, feel free to add your suggestions or queries in the comment section below.
If you've your very own photo editing app and you think that deserves to be on the list, then Submit Your Own App at TheGreatApps and get the huge response from our millions of users.
Any query regarding this, feel free to Contact Us. So, download these apps, we would love to hear about which Best Android Photo Editing Apps of 2017 you consider to be the best ones in the comments below!