Either it is a golden arch of a popular fast food chain, Apple with a bite of the tech giant, twin-tailed mermaid of Starbucks or Swoosh symbol of largest American athletic shoe and cloth manufacturing company. One thing common in all cases is that most major companies take great care of their logos!
The logo is the most visible manifestation and a major graphical representation of the enterprise. It is an essential component of the marketing strategy and a most critical aspect of your business too. In short logo is a unique visual identity with a potential marketing appeal. A good logo is a one way to stand out among countless companies fighting for attention and recognition.
Logo designing is not a rocket science; it is an art where your creative mind and creative ideas can work only. Transforming an original idea into reality is the most difficult part of the strategy. Web-based technologies and desktop based software are there, but it would be surprising for you to know that there are several handy logo apps too for Android users. You can download these apps to create outstanding brand logos. Now sketch your business idea on the touch screen of your Android phone. Here is the glimpse of 10 best free logo maker apps for Android in 2017!
Kick start your mobile creativity with Logo Generator & Logo Maker. It is one the most favorite free logo designing apps for Android users. Now, logo design is a matter of few seconds for you. Logo generator and Logo Maker allow you to create powerful branding for your business in a couple of easy steps by providing everything which you need to get started.
1. Logo Generator & Logo Maker
The best thing about the app is that it is easy to use for both professional designers as well as people without any prior experience in logo designing. Create custom, creative and beautiful logo for your brand with Logo Generator and Logo Maker. A great collection of inbuilt tools let you create professional looking logos. This outstanding collection of inbuilt tools includes approximately 2000 fully editable and custom logo templates for different industries, tools for recoloring and editing, more than 100 fonts supported by the typographic engine and much more. You can have a beautiful typography in your logo with advanced text editing tools and a professional layer of management function allow you to work on your logo with ease. Whether it is a logo, sticker or a label whatever it is, logo generator & Logo Maker is something which can help you to do branding with ease!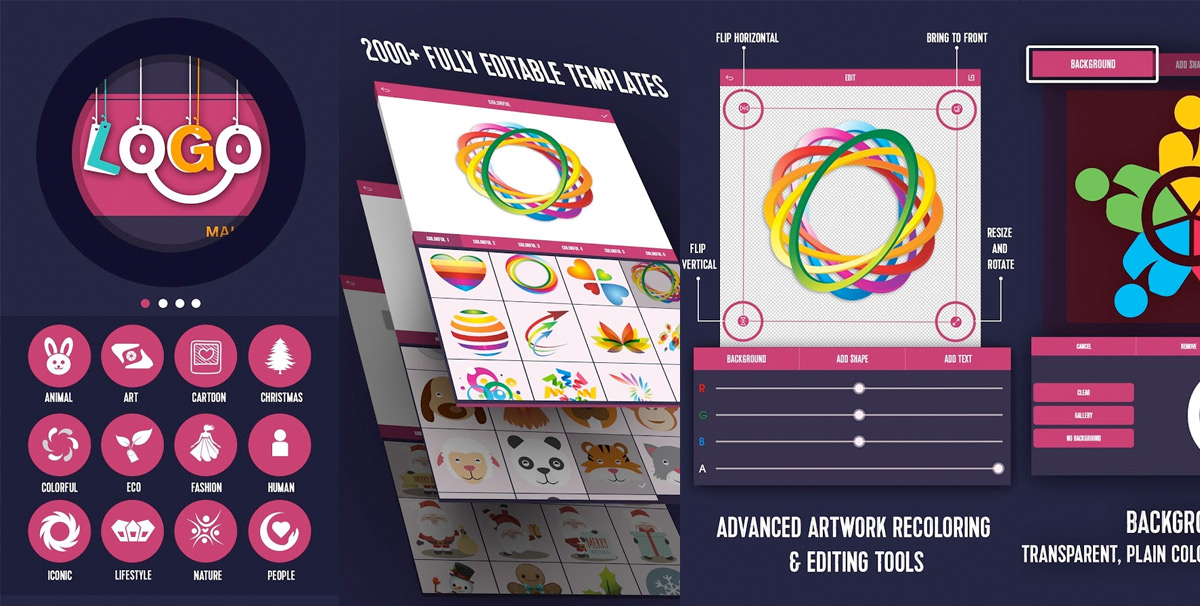 2. Designer Logo Maker
The logo is not branding; it is not your identity. Logo design, identity, and branding all of them have different roles, but all of them have the ability to create a perceived image for your business. There is no need to hire a professional logo designer or to use the massive range of designing software. All that you need to do is to download a Designer Logo Maker app. Various logo designs for different categories, the ability to add different shapes to your logo design and a chance to customize text, color, and effect of your logo are some additional features making the outstanding app choice for the logo designers. Save your logo in PNG format and use anywhere you want to use.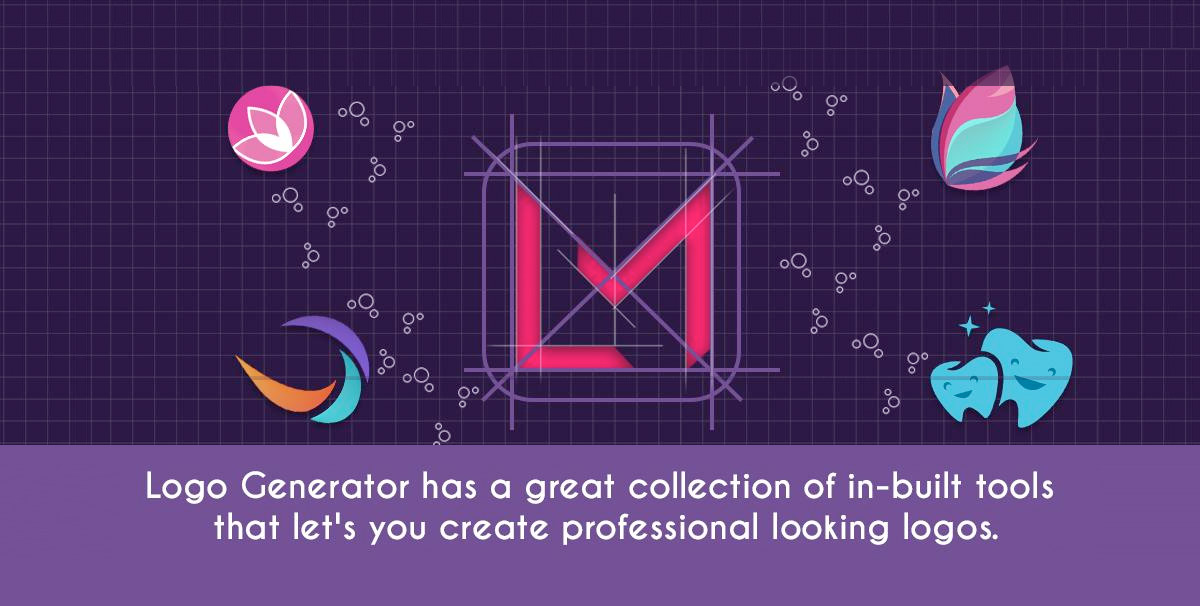 The app is known for offering enough basic features to user and logo designers, but it could be the best logo designing app on mobile screen for those who want quick and straightforward designs. This app allows the users to create the app in less time with less effort and not cost.
3. Logo Maker Free
The Logo Maker Free app is an invaluable asset for all designers. It is a fantastic app which allows developers and business owners to create a logo on their own Android devices. The process of designing amazing and attractive logo is easy and free at the same time just because of Logo Maker Free app. If you need a logo to start branding, then you don't have to pay an enormous amount of money to the logo artist. This app has made logo designing comfortable and free than ever before. You can use these logos for a commercial purpose even without purchasing any license. With this free logo designing app, you create and change the logo to save on your branding. Here you have a chance to choose from the pool of 200 logos with different fonts and different colors. You can customize the logo by resizing the text or rotating the image. This super-fast logo maker app allows you to save your file in transparent "png" format.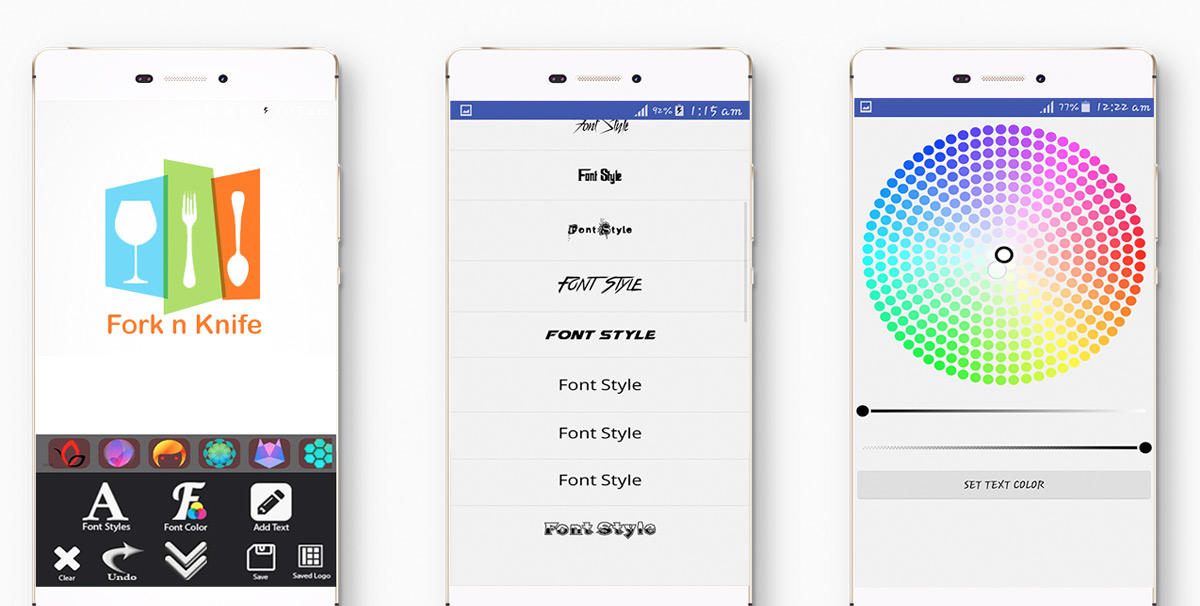 4. Logo Design Pro
Be the master of your fate by creating a logo for your brand on your Android device. Logo Design Pro is a free app which allows you to create or modify logo of your brand. 100 amazing logo designs available in the app are broadening the choice to create the best logo. An additional benefit of the app is that you can have a separate logo which appeals you the most. Zoom in and zoom-out is another most significant feature making the app dominant among other logo generating applications. Logo design pro is the best logo designing app which allows you to adjust your plan with less time and effort. Logo design pro is not just an application it is an inspiration for generating lasting impression and emotional connection between you and your customers by designing a creative and aesthetically appealing logo.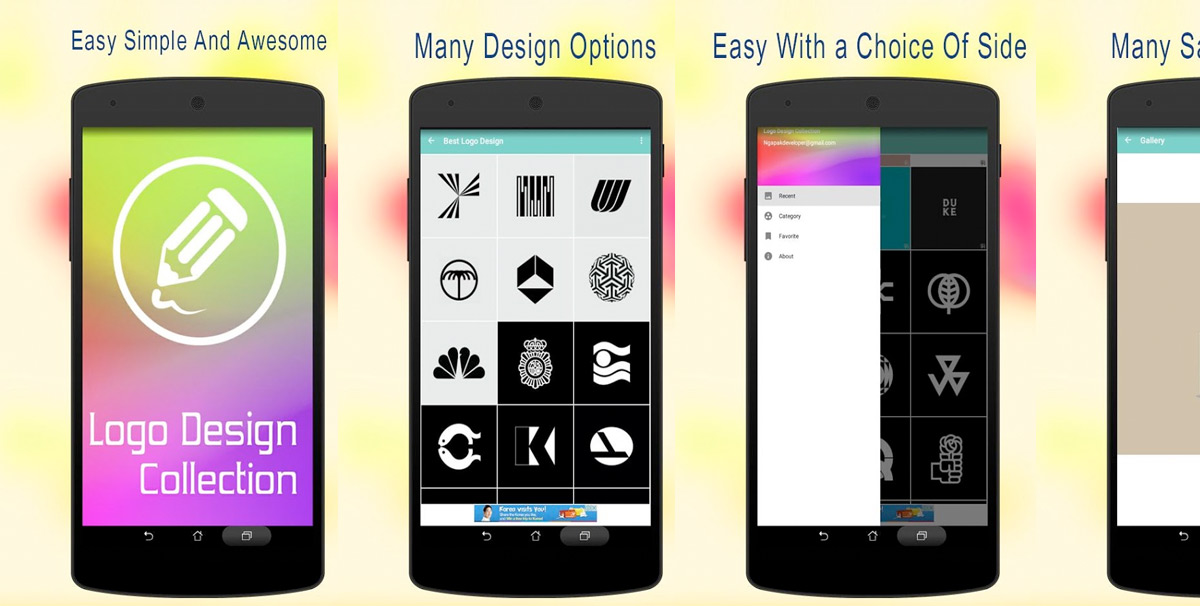 5. Logo Maker By Marry Gold
You will fall in love with Logo Maker by Marry Gold just because of exceptionally outstanding features for designing a distinct yet simplistic logo to stir the visual memory of your audience.
This professional logo designing app is a painting studio that is letting you create powerful branding or your business within few minutes. Everything related to logo design is here which you need to get started on the establishment of a creative, efficient and powerful logo for your brand. Logo Maker by Marry Gold is a free paint tool container application which enables you to create the logo as per your needs. Now design a professional, creative, customize and beautiful looking logo without any work experience and prior knowledge of building on your Android. 350 nice offline logos and more than 2000 online fully editable and customer logo template, professional tools for recoloring and editing, more than 100 fonts supported by a typographic engine and working layer of management function allow you to create a logo with ease.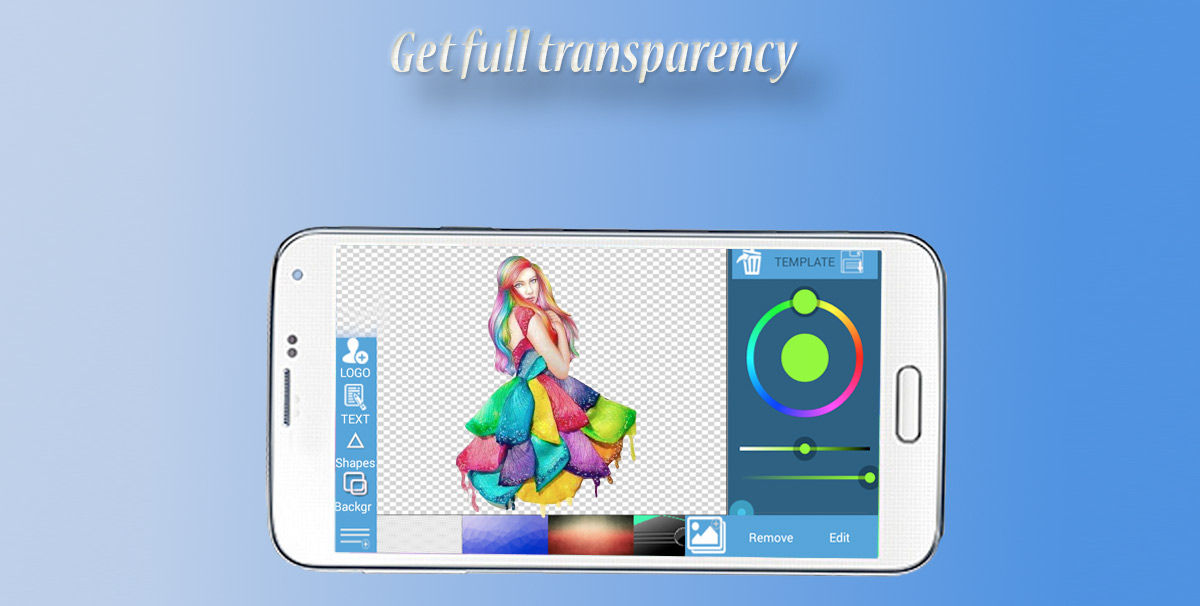 6. 3D Logo Design
Attract customers and showcase the values, standards and overall vision of the company by creating a 3D logo. 3D logo design app is a break from convention. The above mentioned all the apps are offering features to create a traditional logo, but this app is something which is known for creating a 3D logos. This is not a DIY (Do-it-yourself) 3D logo design app, but it is free. Create your favorite logo by using this outstanding logo making an app on your Android. Various 3D texts and other forms of models are there. Select any of them and start transforming your 3D logo designing idea into reality. The app is easy to use and easy to install for all Android users. Either it is just a 3D Text Design or an elaborate logo of your brand, the application is a perfect choice for you.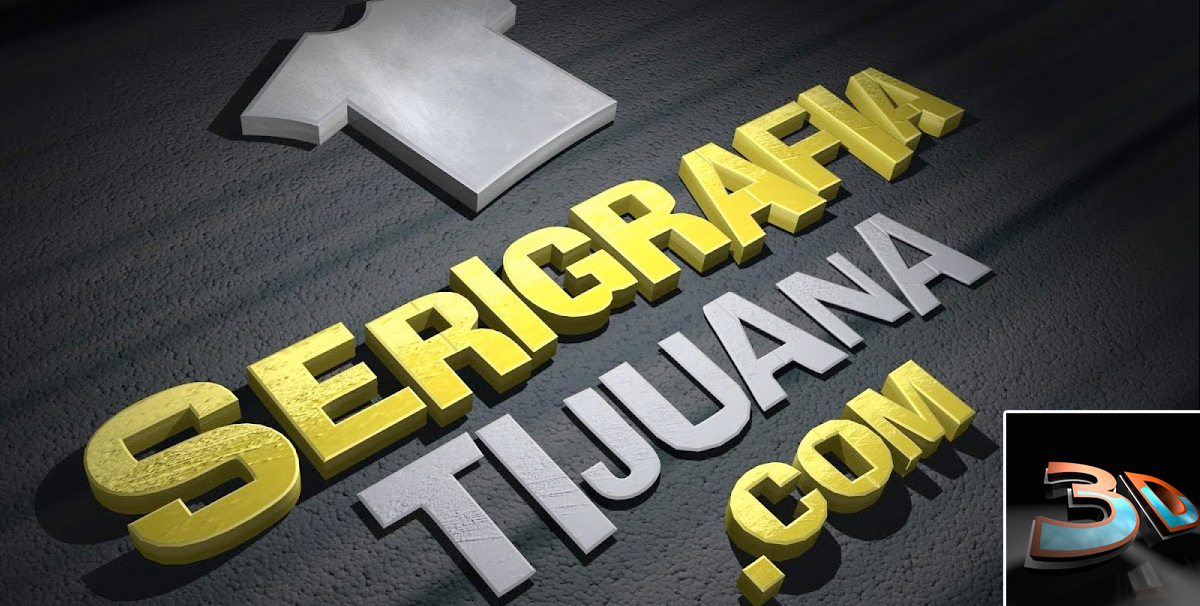 7. Logo Factory App
Give a big applause to your Android because it has made logo designing comfortable and convenient for you than ever before. Logo Factory App is making a significant contribution to it. Logo Factory App, another cool free app for Android users making the process of logo designing simple and easy for you. Predesigned background images, various text and font sizes for the logo are available in the app. You can set the position of the picture and text according to your taste and preference. Straightforward and intuitive interface, a gallery with a variety of images is enough to personalize logo designing experience for you. Logo Factory app is an ideal tool for graphic applications.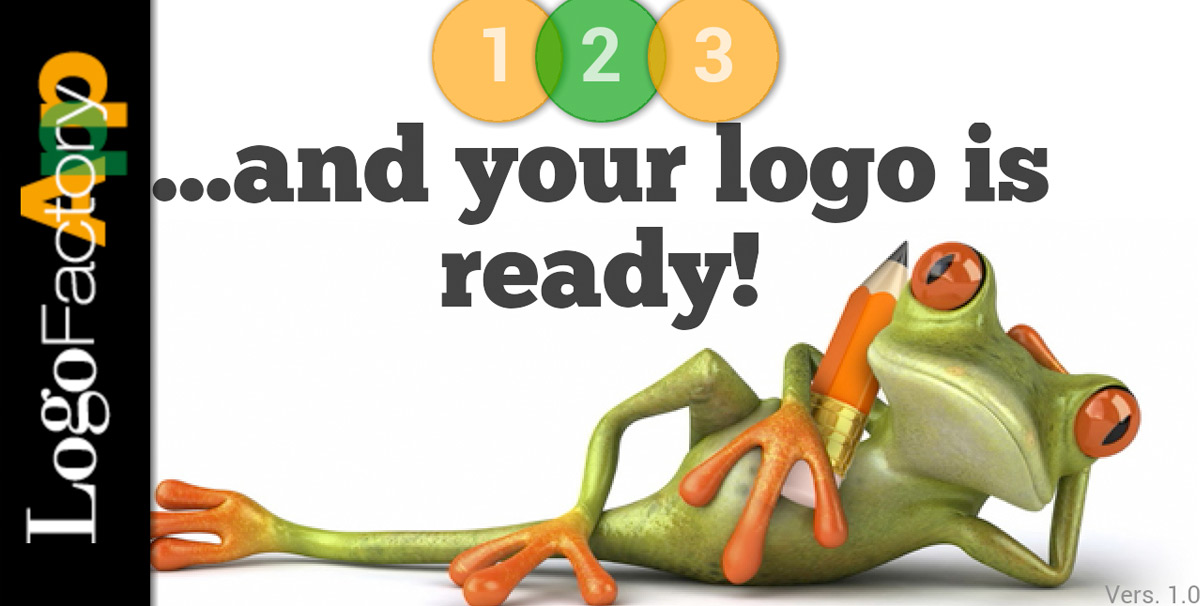 8. Quick Logo Design+
Cheers up and have fun because Quick Logo Design+ is here to make you a professional logo designer. Excellent collection of logo backgrounds and fonts is a good start for your branding. Select an image, fonts and start creating a logo. Move and rotate your favorite image with just a finger touch and make your logo outstanding. Quick Logo Design+ is free of cost and easy to use logo designing app. This Android app allows you to create unique logos with tons of creativity and beauty. Now creating a cool logo with Quick Logo Design+ is the matter of just a few seconds.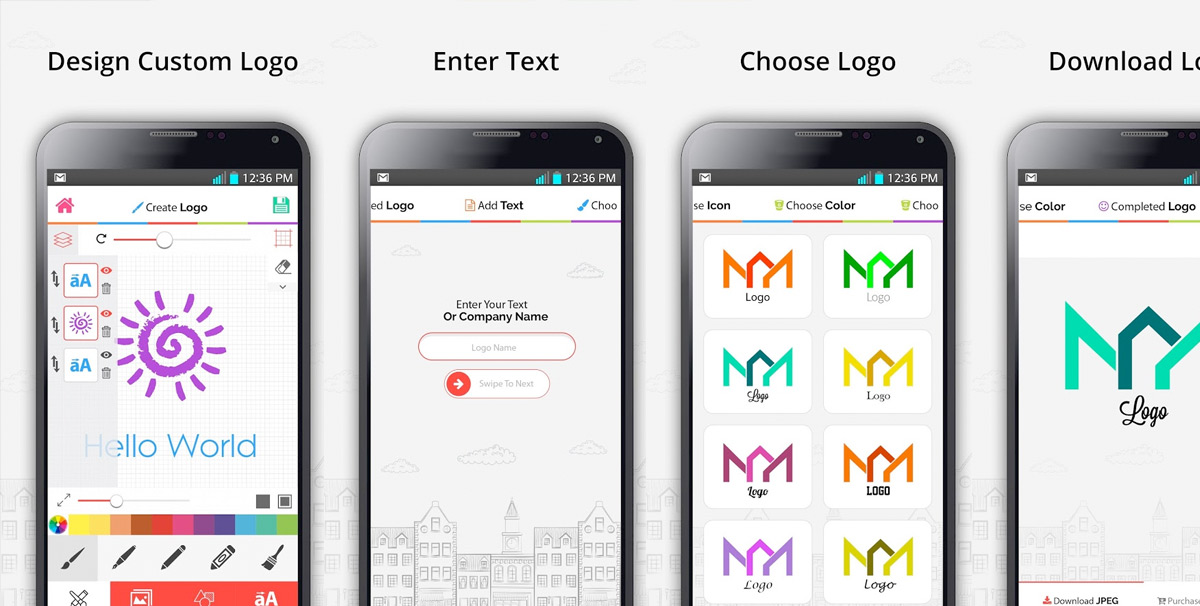 9. Infinite Design
Infinite design app is created by Sean Brakfield developer wholly solely for Android users. This app lets Android users create a design by making the use of a tablet or smartphone. The free version of the infinite design includes infinite canvas, infinite layers, undo, redo infinite system and ability to import images to the canvas. This app also includes some layer options such as split, merge, and flip and duplicate symmetry tools. Special effects, path editing and a pen tool for precise control are some distinct features of the app. save an image of your logo as PNG, PSD, SVG and ad free.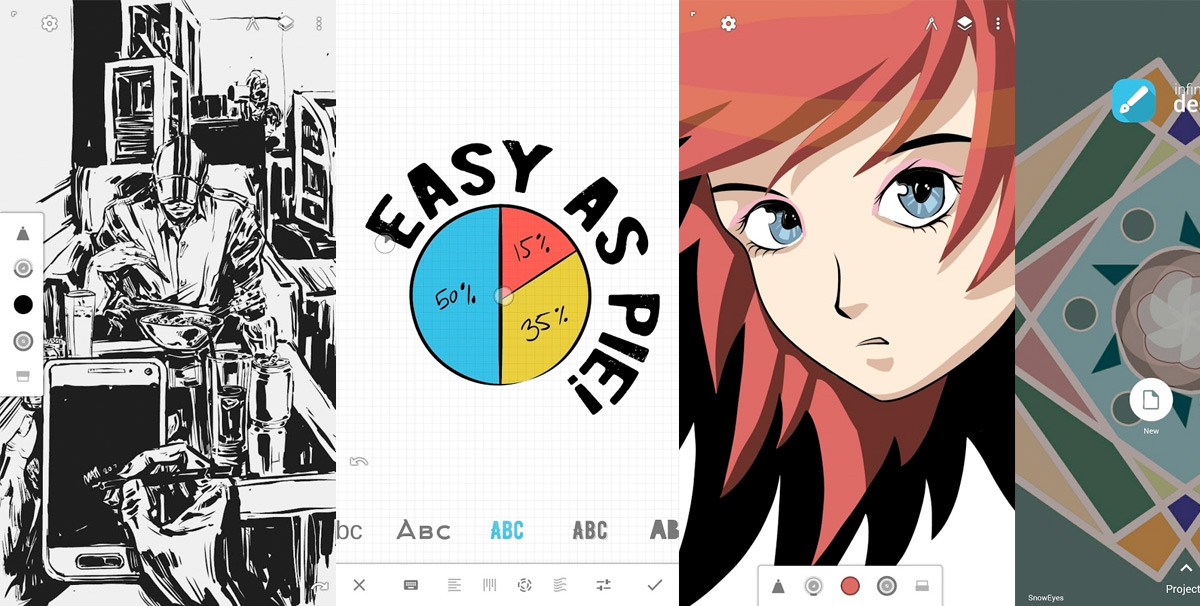 10. Sketchbook Express
Free to download a painting and drawing application created by Autodesk. The app allows the users to draw smoothly on the screen of the device with a single touch or a digital pen. The user interface of the app is filled with an all the tools and features necessary for the logo designing let the user design a simple design to the compound one. Undo, redo button with active layers of the panel and loads of different drawing tools allow the user to customize the logo as desired. You also have a chance to change the size and intensity of each device and produce a variety of results. Palette of colors at your disposal and auto hiding feature of the display distinguishing the characteristic. Sketchbook is the perfect logo designing alternative which is good beautiful and cheap at the same time.