Well, most of you will agree with me that iPhones are the world's smartest and expensive mobile phones that a person can have. But, even though this high-budget, iPhones are also unsusceptible to issues, errors, and damage that commonly trouble any other smart phones. If you are also an iPhone user then you know the most common issues of iPhone such as iPhone crash, iPhone black screen and other iPhone errors. Being an iOS user, I always see new and a different type of problems on my iPhone.
Surprisingly, the latest updated version of iOS also has some imperfection. If you are unable to know the main causes of iPhone problems then don't get stressed because 'where there is a will, there is a way.' There is more than enough number of solutions to these problems. Before going into the solution part just have a look on the causes of iPhone black screen of death, iPhone crash, iPhone errors etc.
What are the Causes of iPhone Black Screen, iPhone Crash, and iPhone Errors?
Below are some of the main causes of the iPhone black screen of death, iPhone crash, and iPhone errors;
Defacing of hardware because of inappropriate screen replacement, device fall on the floor, water damage to the device, and bad screens of the device.
Software issue like moderation in the firmware, jailbreaking, iOS crash, iPhone crash and other issues like iPhone DFU mode, and iPhone error 3194.
Liquid exposure of the device and internal damages to the device.
Top 4 Solutions for Resolving iPhone Black Screen of Death:
Before picking any solution make sure that you know the main cause of the error like its hardware or a software problem.
Following are some of the best solutions for resolving these problems:
1. Reset iPhone to solve the problem of iPhone black screen of death:
Step 1: Firstly, Press and hold the Switch off and the Home key button for ten seconds.
Step 2: Wait until the appearance of the Apple logo on the phone's screen.
Step 3: After the completion of the rebooting process of iPhone, the black screen of death will completely disappear.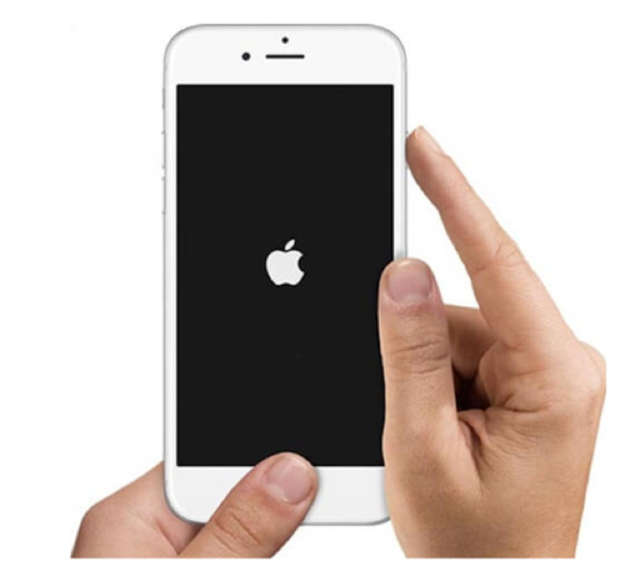 2. Solve the black screen of death of iPhone by restoring it:
Another way for fixing the black screen of death of iPhone can be done through the restoring process.
Step 1: Firstly, install iTunes (latest version) on the computer system. Attach your iPhone with computer through USB cable.
Step 2: Now, your phone will detect iTunes and show the below image.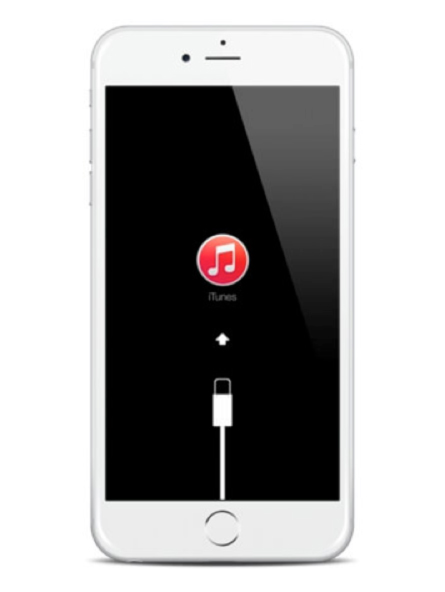 If this doesn't happen then press the power button with the home button until the same image appears.
Step 3: After the appearance of the above message on your iPhone, click on the restore button to start the restoring process.
Step 4: Finally, your iPhone will start and you will see that your phone is completely out from the black screen of death issue.
3. Solve black screen of death of iPhone by dr.fone – Repair without losing your data:
dr.fone is the best solution for resolving most of the issues related to the iPhone. dr.fone can be used on both Mac and Windows with every updated version of iOS.
If you also want to use the dr.fone – Repair app then follow these underneath steps.
Step 1: Firstly, install the dr.fone app on your Mac or Windows system and initiate the process.
When the above image appears on your system, click on the 'Repair' option.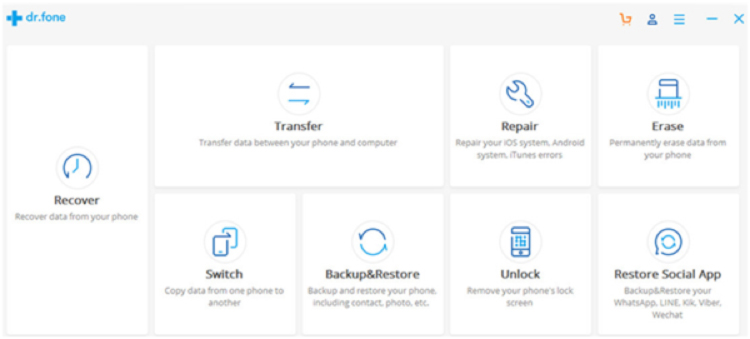 Step 2: Now, connect your iPhone with the system (Mac or Windows) using lightning cable and click on the 'Start' button.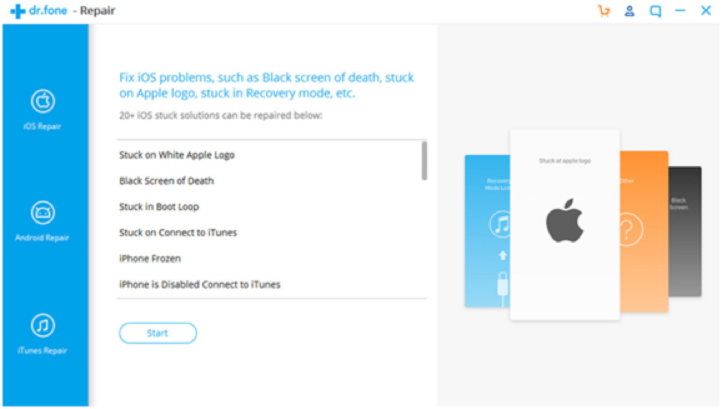 Step 3: After this, you put your iPhone in DFU mode and then, follow the instructions.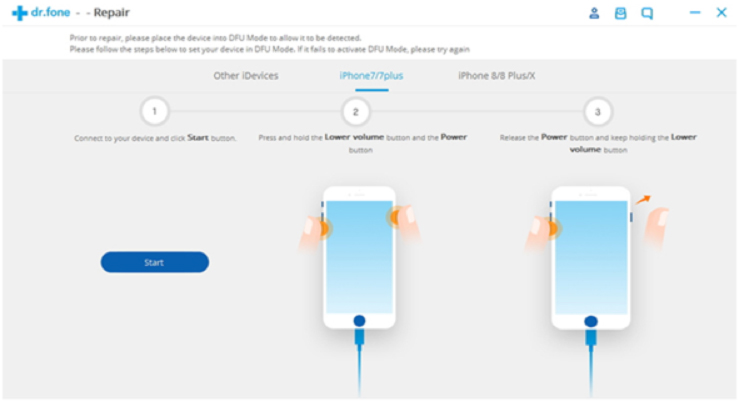 Step 4: Fill all the required information about your iPhone like a model number and click on the 'Download' button.
Step 5: dr.fone app then downloads the updated framework for your iPhone.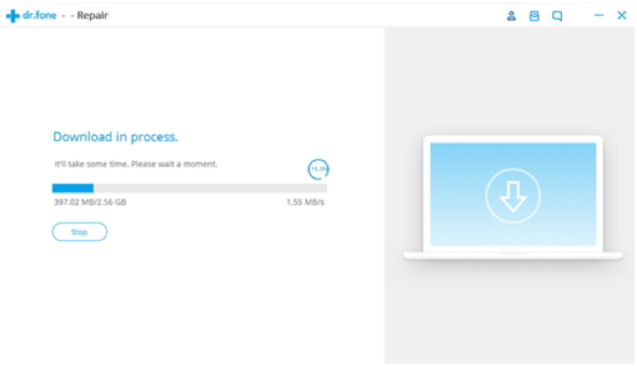 Step 6: When this process accomplishes, you see that the app fixes your iPhone automatically.
Step 7: Finally, you see that your iPhone is now error free.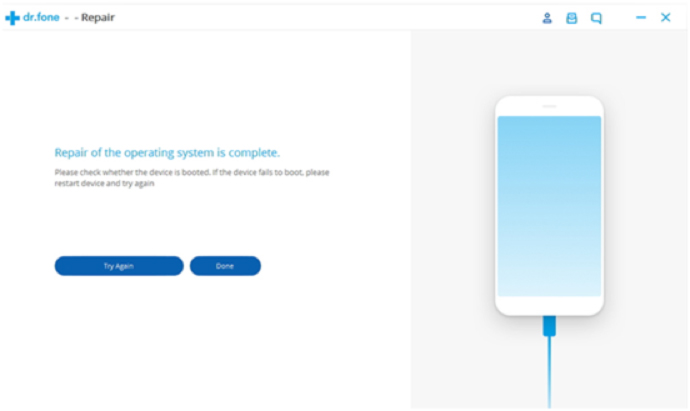 4. Solve black screen of death of iPhone if it's a hardware problem:
If all the above solutions are not suitable for you then it may be due to hardware issues.
If your iPhone seems to have a hardware issue then try to settle this with some needful steps like charge your iPhone properly to see whether its battery issue or something else. Sometimes charging port of the phone can also cause the issue. Always try to charge your phone with original cable to eliminate these issues.
Top 3 Solutions for Resolving iPhone Crash Issue:
Following solution are best if you want to resolve iPhone crash or any other iPhone errors;
1. Restart Your iPhone:
The best and the simple way to resolve the iPhone crash is to restart it. It might sound very incidental to you but it actually works. By restarting the phone we are actually closing all the apps that are running in the background. Hence, you find that the iPhone is free from iPhone crash issue.
2. Memory and Storage Clear:
Overloaded storage and memory boost the problems of iPhone crash. So it's better to clear all your excess storage and memory data from your phone to resolve the problem.
3. Do Latest Update to Resolve iPhone Crash:
Sometimes your phone faces problems because it's not updated. Doing latest updates helps in resolving all the bugs that are associated with these problems.
Conclusion:
As of now, after reading the whole article you have an idea on how you can deal with these common issues of iPhone such as iPhone black screen of death, iPhone crash, and other iPhone errors. As far as my opinion is concerned, dr.fone is the best and safest solution to fix any problem of iPhone.