As an entrepreneur, you can grow your business astronomically on Shopify. Data indicates that the best-performing companies on the platform have gross revenues of $7 billion to $11 billion.
So, how can you achieve such a feat?
In fairness, the world of ecommerce can be as intimidating as it is lucrative. And, if you do not know your way around, you may not be able to capitalize on this opportunity. Fortunately, you do not have to spend your time learning or trying to figure things out manually.
There are plenty of tools that you can integrate with your Shopify store to accelerate your growth. Whether you're just starting or want to boost traffic, you'll have plenty of options to consider. While being spoiled for choice is excellent, it also makes it challenging to select the right tools for your business.
First, you have to choose tools that suit your business model. For example, on Shopify, you can set up as a manufacturer or a reseller. Read on to learn how manufacturers and resellers differ and the best Shopify apps for manufacturers.
How do Manufacturers and Resellers Compare
One of the best aspects of selling on Shopify is that the platform has a wide range of tools to assist you with various aspects of your business. However, as a manufacturer, your operations and business needs vary significantly from those of resellers.
For instance, unlike you, resellers do not manufacture any products. As such, raw material and inventory management is not a concern for them. On the other hand, it is a crucial part of your operations and success.
Another distinction comes in the number of goods you handle. Your production capacity and inventory need to meet the high demand from resellers and wholesalers. With resellers, the only goods they handle are those their direct customers want.
As such, while selecting Shopify apps, you need to choose ones that are designed to suit your manufacturing needs.
Katana Manufacturing ERP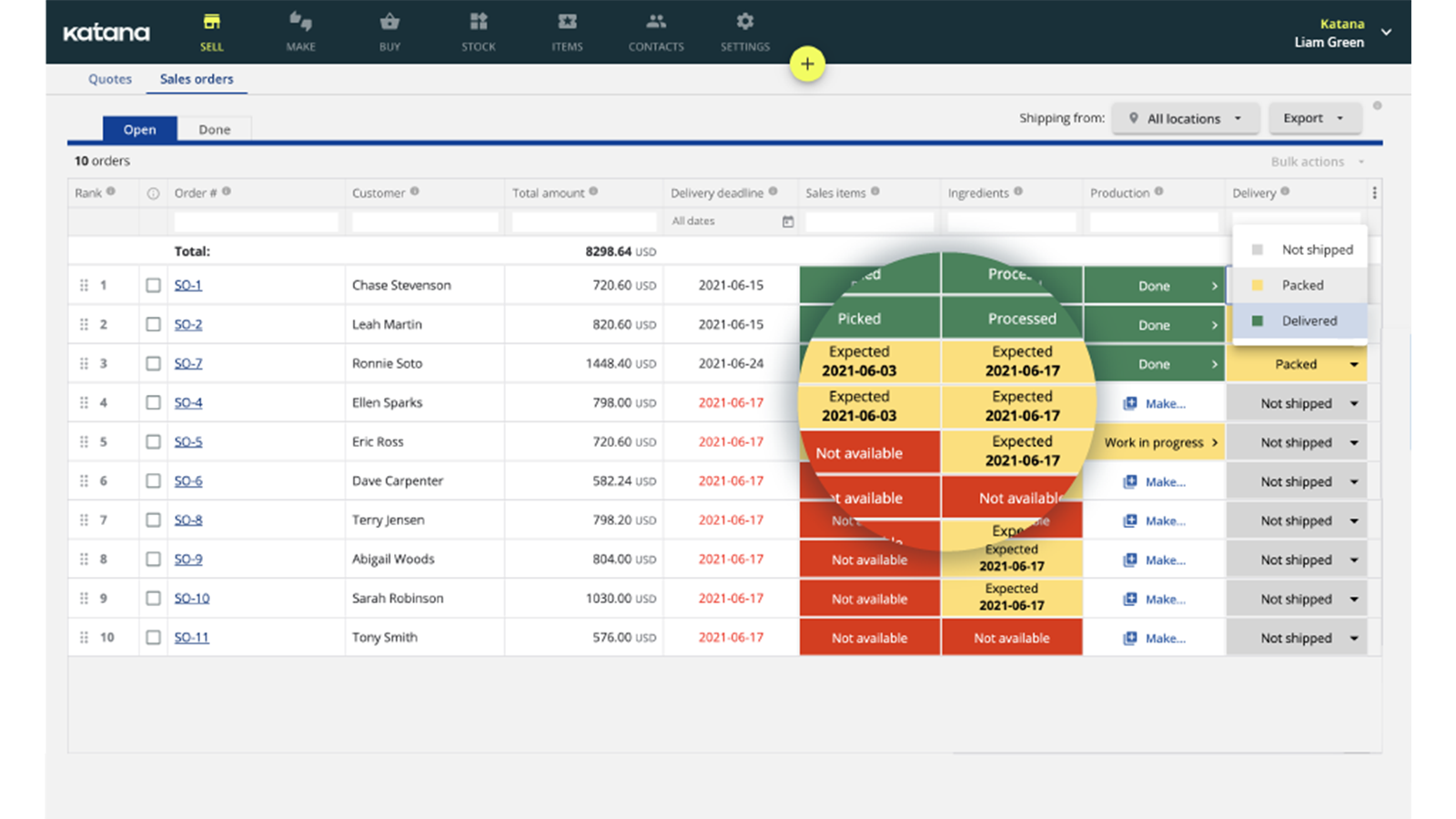 An increase in moving parts often accompanies business growth. How you manage such elements influences your company's stability and growth potential. This is where Shopify inventory tracking, tailored to manufacturers' needs, comes into play. Katana is a top reviewed Shopify app with many features that give you full visibility of manufacturing and inventory management.
Some of the key benefits of using Katana include:
Seamless order fulfillment as raw material and product allocation is automated
Real-time inventory tracking
Production visibility optimizes floor-level processes
By prioritizing sales orders and setting up reorder points, you can track and optimize inventory movements
With Katana, you'll gain a simple, yet powerful tool. As a result, there's little admin work necessary, and you'll have more control over processes. Moreover, it makes it easy to manage multiple shops as you can link them all to one Katana account.
Shopify rating: 4.9 (118 reviews)
Pricing: 14-day free trial. $99/month
ShipStation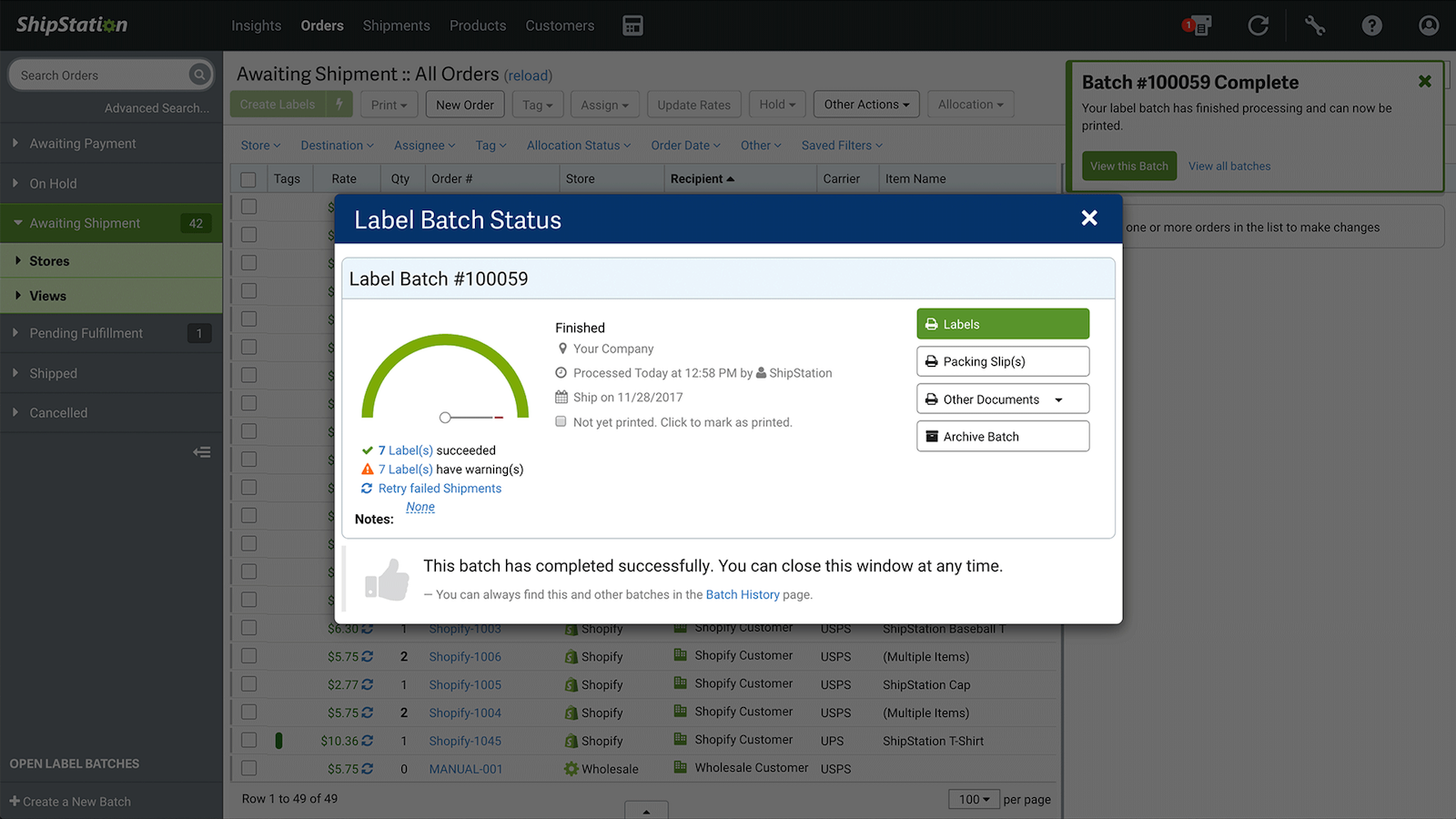 In modern-day manufacturing, shipping must be exceptionally efficient. ShipStation promises that there's no other app that automates more shipping tasks or saves more time. It offers intuitive dashboards and interfaces for optimal workflows and the ability to automate the entire shipping process from basic steps to complicated automation rules. It also integrates with various shopping carts, marketplaces, carriers, ERP and inventory platforms, fulfillment services, and other ecommerce tools.
Some of the key benefits of using ShipStation include:
Product details such as item name, SKU, weight, and images import with the order
Map multi-location inventory sources to ShopStation ship-from locations
Batch print shipping labels
Branded tracking page, return portal, and shipping notification emails, labels & packing slips
40+ different carrier services across the US, Canada, Australia, and the UK
Simplified international shipping process
Shopify rating: 4.2 (530 reviews)
Pricing: 30-day free trial. $9/month
Bulk Product Edit & CSV Import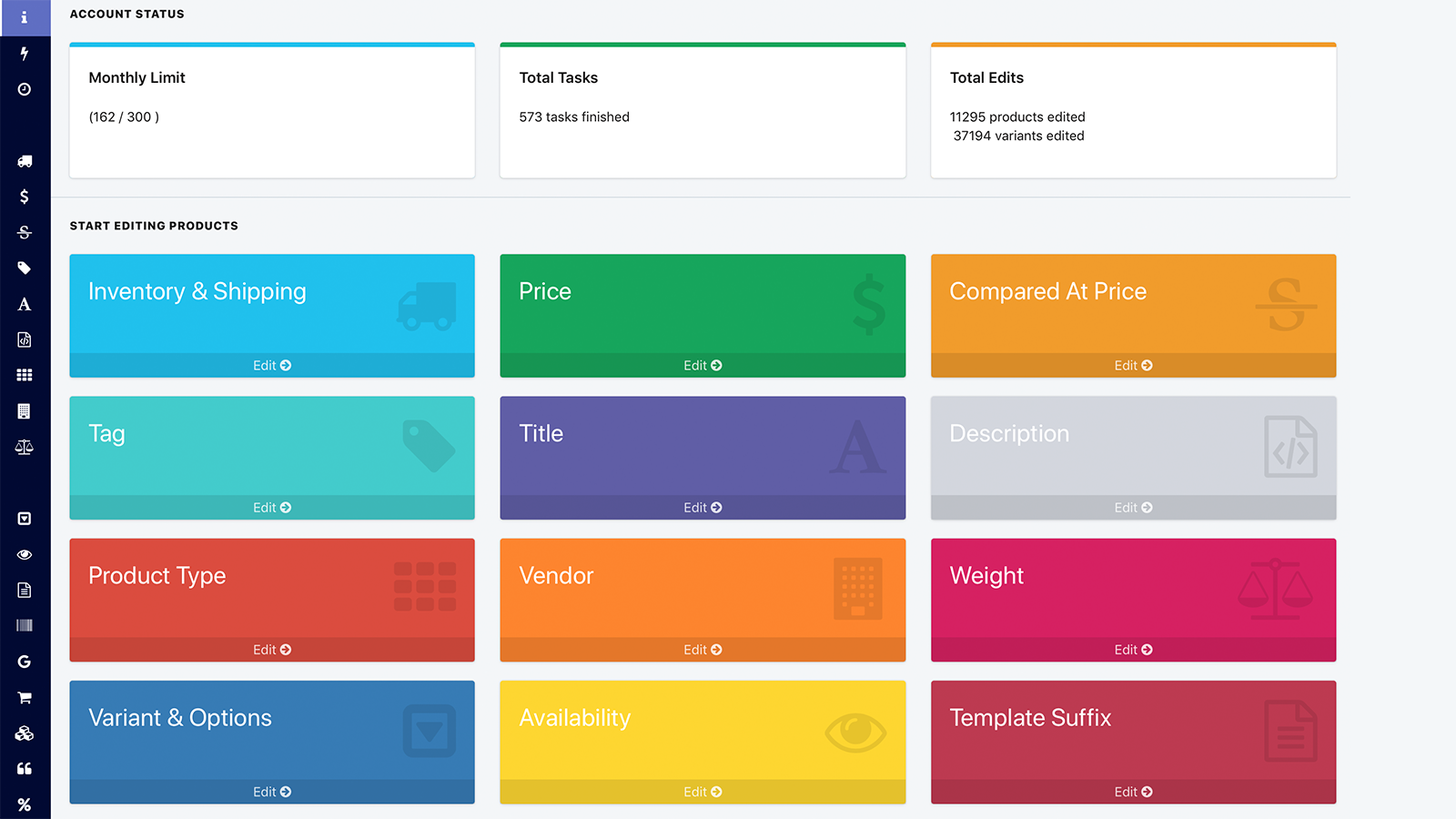 Having hundreds of products to manage can be a difficult task. What do you do if you need to launch a time-limited campaign, discounting prices by 10% and then go back to the original price? Or perhaps you want to publish all your products to other sales channels like Amazon, Facebook, or Google Shopping. Without a proper tool to help you do this in bulk, you'll find yourself spending way too much time and resources doing it all manually. Bulk Product Edit & CSV Import is a great tool helping you to automate such processes, save countless hours and plan ahead.
Some of the key benefits of using ShipStation include:
SEO features: change meta titles, descriptions, URLs for hundreds of products in just a few clicks
Bulk edit features: filter to edit by collection, type, vendor, tags, etc. and edit in bulk all product details such as price, cost, tags, titles, descriptions, weight, inventory, SKU, etc.
CSV edit features: upload or provide a links to a CSV or Excel file
Scheduling features: schedule tasks to run at a later day (e.g. start a discount campaign for Christmas) and set up recurring tasks
Safety features: no downtime to your store during edits, review changes in detailed logs, revert changes in a click
Shopify rating: 4.7 (1378 reviews)
Pricing: Free plan available
Get the Right Tools for Your Business
There are a plethora of Shopify apps available that cater to different business needs. While having as many as possible may seem like a sure way to simplify your work, that's not necessarily true. The objective is to have the apps that are best equipped to cater to your needs.