Being one of the most used instant messaging apps, WhatsApp has millions of users around the world. While it offers end-to-end encryption and other necessary security features, still your private chats remain prone to security threats due to cybercriminals and curious onlookers. If you leave your device unattended on your desk and your device isn't locked, then there are high chances that anyone can access your private chats on WhatsApp.
How to protect WhatsApp chats?
The easiest & safest way to keep your WhatsApp chats is to keep your app protected with a strong password. To do this, you can use the best WhatsApp chat locker apps. Let's discuss best 3 WhatsApp chat locker apps in this Article.
Group Chat Locker for Whats Chat App
While the app offers tons of useful features to help you keep your private chats secured, here are few important features of the app.
Features of the App:
Intuitive UI and user-friendly experience
Password and fingerprint lock/unlock support (works on devices with fingerprint sensor)
Individual and group chats lock
It allows you to add recovery email so that you can recover password details when needed.
Change passcode option available
Steps to protect your chats using Group Chat Locker for Whats Chat App: App offers the easiest & safest way to help you lock your chats with few steps process. Let's discuss it here.
Open Google Play Store, search and download Group Chat Locker for Whats Chat App.
Open the app.
It will ask you to create a secure 4-digit password. Do that.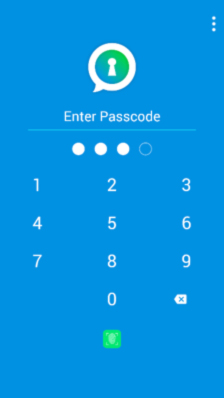 For urgent password recovery add valid recovery email.
Give necessary accessibility service permission by enabling it from settings.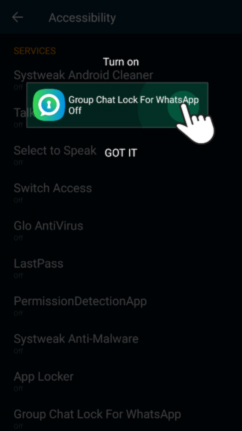 Add individual chat/s or group chats for password protection by pressing "+" icon from the lower-right corner.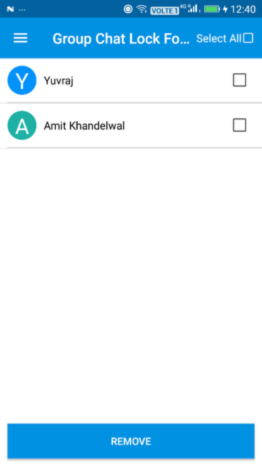 You are done!
Note: To lock complete WhatsApp app or lock all apps on your device go to Settings > App Lock and enable it. Once you enable it, all apps on your device will be locked.
You can also visit Settings from menu to Change Recovery Email and App Lock Permission.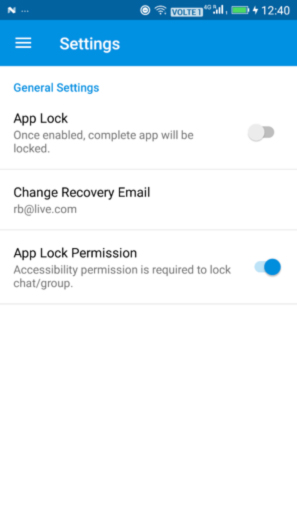 Whats Lock
Whats Lock is another effective locker app for WhatsApp. It helps you lock individual chats on WhatsApp with password protection. When you install this app, it asks you to set a security question to help your recover password safely in case you forget it. Once you set 4-digit passcode, you can simply add the apps to lock. It offers numerous themes to enhance the user experience. It offers pattern lock and passcode lock option and allows you to switch in between these options. This powerful app keeps all your chats private on WhatsApp effortlessly.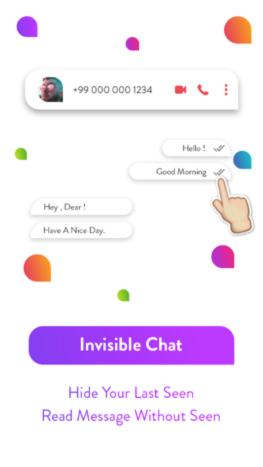 Features of the app
Passcode & pattern lock supported
Security question to safely recover the passcode
Individual and group chat lock option
5 amazing themes to choose from
Allows you to switch between pattern lock and passcode options
Fingerprint unlock feature with fingerprint sensor devices
How does it work?
Download the app from the Google Play Store.
Set security question on the first-time installation. It will help you recover passcode safely in case you forget it.
Set 4-digit passcode for the app
Add personal chats to this chat locker and lock them.
By visiting Settings, you can change the default theme, change or recover password, enable/disable passcode, and do more.
Messenger and Chat Lock
Use this powerful app to lock numerous popular messaging apps including WhatsApp, Facebook, and more. Here, you can set a PIN or password to protect your valuable chats on these apps. You can also use this app to hide your images and videos by protecting it with a password. This nifty solution is available for free and sets no limitations to help you lock unlimited chats.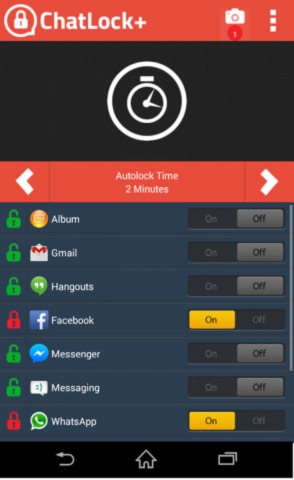 Features of the app
Messenger and Chat lock is available for free and works on intuitive UI.
Helps you lock multiple messaging apps including WhatsApp and Facebook.
It protects settings and uninstallation of apps for better security.
Capture intruder selfie when someone tries to break your password.
Customize auto lock time
It is an ultra-lightweight app that consumes very limited device resources.
Minimum special permissions required.
How does it work?
Download and install the app.
Set 4-digit PIN and set configuration options to lock different apps.
It allows you to customize auto-lock time to avoid entering the PIN again and again.
You are done!
The final words
The best app & chat locker apps for WhatsApp helps you keep all your private chats secure from various threats. Working on smart algorithms, these apps provide you security in real-time so that no one can access your personal chats without your permission. These smart apps offer tons of useful features to help you keep safe from cyber threats and curious onlookers. Here, we have reviewed top 3 chat locker apps for WhatsApp. If you know more such amazing tools, then feel free to share in the comments below.