While businesses are progressively adjusting to the shifting trends of mobile-only and mobile-first initiatives, the debate over whether to keep an in-house mobile app development team or outsource it to specialized service providers continues to rage, and for good reason.
An app may cost hundreds of thousands or even millions of dollars if you take charge of the development process and make decisions about the project's future.
While employing an in-house development team reduces financial risks, there are various advantages to outsourcing your mobile application to a professional enterprise mobile app development company.
Reasons to Outsource Your App's Development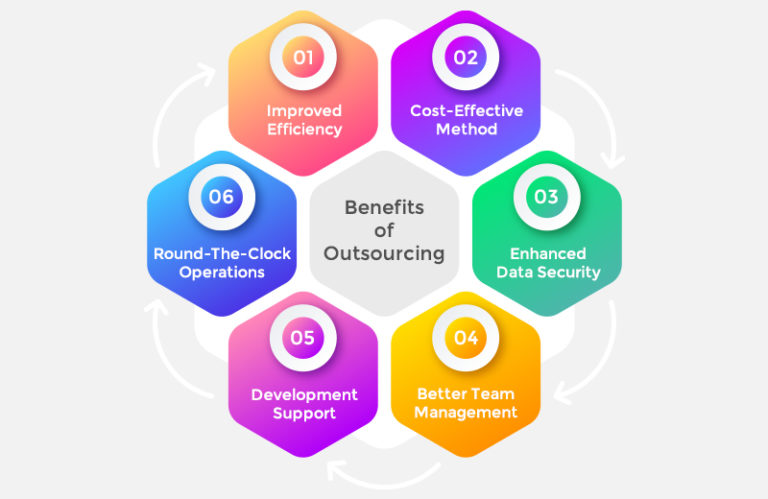 1. Proficiency in the Field
Employing an outsourced mobile app development company means you're gaining access to expertise that has been amassed over many years. This will help you gain the right mix of skills needed to make your app concept a reality.
Outsourced software projects are often handled by high-tech companies with in-house teams of designers, programmers, and auditors.
As a result of their prior and present work, enterprise app development services have encountered a wide range of unique obstacles.
This gives developers the ability to create applications that are both high-quality and easy to use.
2. Assists You in Saving a Significant Amount of Money
When you start a mobile app development project, you'll almost certainly be on a restricted budget for resources. Outsourcing will help you stay inside that budget without too much problem. For short-term tasks related to enterprise app development, outsourcing is a cost-effective alternative.
There are no hidden costs to worry about if you clearly communicate your mobile application needs before hiring a team to work on it for you.
Outsourcing is an increasingly important tool in today's world of social distance. Your expenditures related to maintaining and operating the working spaces might be reduced because you don't need to set up the necessary office space.
Your operations costs can be reduced and controlled by outsourcing your project to a team of experienced developers. As a result, you will be able to raise your earnings and save the additional money to invest in a new area of your company.
3. Enhances Effectiveness in the Workplace
You may boost your company's operational efficiency by outsourcing your app development job. While you optimize your company procedures, your core employees may continue to do their regular jobs without interruption. Regular staff will no longer have to worry about app development.
In other words, they may focus their efforts on improving your company's adaptability so that when your mobile app is ready your entire organization can continue to run smoothly.
The speed with which a project may be completed has also been emphasized as a benefit of outsourcing. Instead of spending time and money on forming a team, you may begin working on the project as soon as you have selected a supplier to whom you will outsource the work.
4. Access to a Larger Pool of Potential Employees
When you decide to hire a professional to work on your mobile app, the possibilities are endless. Assuming that your nation has a plethora of talented app developers, consider the rest of the world's potential. You have access to a considerably broader pool of experienced professionals.
With these experts, you won't have to worry about mundane issues like managing employee benefits, pension plans, and health care. These professionals have developed their abilities to the point that they can rapidly and efficiently meet your demands.
Having numerous projects running at the same time means that outsourcing companies are always exposed to new ideas and technology that might benefit your project.
5. Can Also Serve as a Consulting Service
Companies or people who outsource work tend to specialize in a certain field. As a result, they are able to learn every aspect of the business, from the smallest gear to the largest wheel, and become the foremost authorities in their profession.
They may serve as important advisers for your company providing various enterprise app ideas for business that is tailored to your specific organizational objectives.
Such organizations may help you on your project path by giving vital research data and UX and UI recommendations for a genuinely creative mobile application.
Your project's best outcomes can be achieved with minimum effort if you follow their advice on what to do and how to accomplish it. You'll have peace of mind knowing your app is in safe hands when you hire consulting services from industry professionals.
6 Strengthens the Focus of Your Project
In order to keep your firm afloat, you'll need to keep your core workforce active. Outsourcing app development means that your team's primary focus shifts away from developing the app.
Instead of spending time checking to see if deadlines are fulfilled and milestones are reached, your team has more time to improve your company's overall operations and outputs.
Your project will be more focused and go forward faster if you have a dedicated staff focusing entirely on the development of your app.
Moreover, you will receive the necessary assistance to expedite your project, since the focus will be entirely on your mobile app development.
7. Alleviates Project Risks to a Certain Degree
Every project has its own set of risks and obligations, and no two projects are alike. Many things may go wrong during the course of a project, from the beginning to the end. When things go horribly wrong, you'll need to become engaged and come up with creative ways of dealing with them.
Due to the fact that vendors bear most of the responsibility for any issues that arise during your app development project, you wouldn't have to stress as much about them if you choose to outsource it.
8. Promotes Workplace Transparency
A company that provides outsourcing services is obligated to be open and honest with its customers. As a result, a wide range of clients has confidence in the organization's openness and openness about its internal workings.
Your project will benefit greatly if you work with a team that isn't afraid to stand up for what they believe in.
When it comes to creating and maintaining customer loyalty, there are no shortcuts and a professional outsourcing firm understands this fact.
Factors to Consider When Choosing an App Partner for Outsourcing
Location
The location of an outsourced app development firm is the first thing you need to look at when making a decision.
This is due to the fact that time zones, official languages, legal standards, and most significantly, the cost to outsource app development may all vary greatly depending on where you are located. Therefore, begin by determining the company's location.
Expertise
Developing mobile apps isn't a skill that all IT outsourcing organizations possess. You may do this by asking a variety of questions to see if they have the appropriate expertise, rather than relying just on what they say.
Knowledge of the Industry
In light of the ever-increasing need for mobile devices, the languages, platforms, and tools developers use to create them are changing tremendously.
This situation necessitates working with a team that is up to date on industry trends and adept at solving mobile app development issues. If you don't, you may wind up with an out-of-date mobility solution.
Approach to App Development
The conventional Waterfall strategy necessitates starting from scratch each time an app is built, while Agile relies on embracing flexibility to make modifications to its development plan in response to changes in market trends.
So, while looking for an outsourced app development business, keep this in mind as well.
The Importance of Security and Testing
With the increased danger of data breaches in applications, it's also critical to look into the amount of testing and procedures taken to improve mobile app security efforts that teams put into the app-building process. Therefore, spend time learning about their security processes and the technologies they use.
Modes of Communication
Because digital transformation trends and client behavior are always shifting, it is critical that you maintain communication with your mobile app outsourcing firm throughout the process.
This suggests that you must maintain contact with one another throughout the day and night to guarantee that you are both on the same page.
Therefore, don't forget to consider this element while picking an app development outsourcing company.
In addition, if you are employing a firm from another location, be certain that the time zone variation does not create a stumbling block in your flow of communication.
Conclusion
It is usually preferable to outsource mobile application development wherever possible. The development will be more targeted, and the developer's specific industry knowledge will help you through the process of building your mobile application.
Further, outsourcing your mobile application development will enable you to access a larger talent pool at a lower cost than if you were to develop your own team from scratch.