Ride sharing or carpooling as you may say is no longer restricted to just about sharing a ride with your friends, family, streets, city or society. It is now encompassing the world.
The ride sharing economy has moved to a level where the customer is confronting the possibility of no longer purchasing their own vehicle and more auto manufacturers are integrating with their potential future clients, Ride Sharing Mobile Apps Script companies.
Giant auto manufacturers like Volkswagen and Toyota have announced an affiliation with two different ride-sharing companies.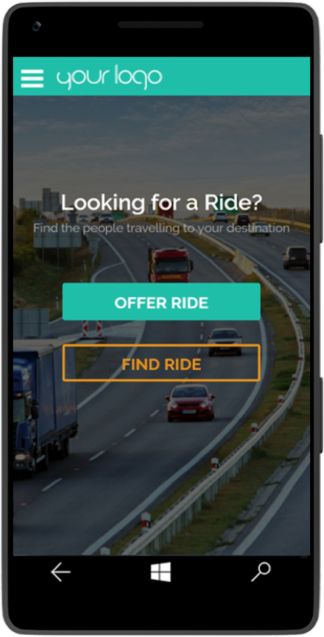 One of the world's largest auto manufacturing giant Toyota has made a public statement of investing a strategic undisclosed amount with Uber Technologies Inc., the largest in the world of ride sharing apps. On the other hand Volkswagen has said to invest $ 300 million in mobility on Demand Company, Gett.
There have been few significant announcements of some amazing deals done in the past one year among the prominent advancement in technologies that could possibly make the traditional car ownership old fashioned. These announcements include Ford Motors being in serious discussion with Uber and Lyft, and General Motors affiliating themselves with Uber's rival, Lyft for about $500 million.
As per 'Steve Man, a Hong Kong based analyst based at Bloomberg Intelligence states that there is a massive demand of ride sharing economy and it is changing the way we use cars and therefore the auto manufacturers don't intend to be left behind. The giant manufacturers are thinking along the lines that if Uber's or Lyft's driver are supposed to be our future client and not Mr. and Mrs. Mitchell than they need to synchronise or align their services accordingly.
Auto industry consultant Dennis Des Rosiers says that Car sharing company drivers are high mileage users who use larger and more profitable vehicle and change them very often thus they may be future dream customers to the car manufacturing companies. He even said that this would bring the brand, loyalty.
Now, as for the technology companies, the automobile industry represents a very robust new source of generating revenue.
Morgan Stanely a research analyst stated in his report that Tec. Giant Apple invested $1 billion in Didi Chuxing, a Chinese ride sharing Service Company and is outspending the top automobile manufacturers on research and development.
An estimated $2.6 trillion is the potential market value of the shared economy world wide as per the report submitted by Katy Huberty and Adam Jonas, of Morgan Stanley. Other reports predict that Apple could accumulate almost 16 percent share of the shared economy. Despite regulatory challenges in the services of Uber in major cities, it is still valued at $ 62.5 billion. Uber has also announced that it will be test driving a self driving vehicle in Pittsburgh using Ford Fusion vehicle equipped with radars, cameras, and sensors, to accomplish its vision of dispatching a driverless car to pick up its customers.
The city of Stratford is bidding to be top in line to come up with first autonomous car test center, owing to its advanced public network as a major advantage.
It was imperative for automobile companies to make this deal as to defend themselves from the threat from ride sharing companies of sweeping of the car market particularly in metropolitan cities. Ride sharing companies are growing with great speed in urban areas, large cities where the cost of owning a car, the cost of parking and insurance cost are expensive.
With the addition of techno leaders or Silicon Valley giants such as Google and Apple joining the race of developing the smart intelligent self driving vehicle, the traditional business of selling cars to customers eventually goes off the balcony. Very simply, now who would be interested in owning a car when you have the luxury of calling an autonomous self driving car and that too from your phone?
Prediction from Barclays Bank in 2015 stated that the self driving cars or autonomous vehicles could drastically affect the sale of cars by 40% in about 25 years, making it feasible for members of the family to share fewer motors.
Automobile companies have clearly realized that they can't afford to sit on their luxurious cushions any more as the tech giants are making serious attempts to provide a solution to an aging population, building a different future.
In a statement from Shigeki Tomoyama, a senior managing officer of Toyota Motor Corp. mentioned that "Ride sharing has a huge potential in shaping the future of mobility". He also said that their alliance with Uber will help them explore new ways of delivering convenient, secure and appealing mobility services to customers.
Gett, the Israel based on demand taxi firm operating in about 60 major cities including New York, Moscow and London has raised 520 million dollars in venture funding capital and is among the top 15 fast growing companies in the race of providing Apps that's connects the riders with black cab drivers and licensed taxi drivers. Volkswagen confirming its deal with Gett said that Creative and digitally integrated services concealing all aspect of mobility services are indicating growth and huge earning option in the near future.
With all the development happening for a better, safe and convenient way of mobility for the future, whether the cars are fully automated or partially nevertheless ride sharing mobility is playing a major part in the future commute.
This would be good time to invest in the carpool app and open new doors for yourself, and for others to earn and enjoy all the rides without actually riding or owning a car.