Internet usage behaviors in the United States have shifted the way we work and connect during the COVID-19 pandemic. The lockdown has led to a spike in mobile app usage for various needs of consumers.
People are logging into smartphone applications for everything, ranging from video-calls to studies to gaming and shopping. Online shopping especially spiked to 40-50% activity even though businesses crashed in March.
The dramatic rise in app usage has caused marketers to change their strategies and seize new opportunities through personalized messaging.
Apps can help local businesses in creating loyalty programs to bring trust and reliability on their products. Even a report by CodeBroker stated that 75 percent of consumers would engage more with loyalty programs that provide rewards in a mobile-friendly way.
Many businesses are leveraging mobile apps for omnichannel integration across areas like customer engagement, commerce and payment, delivery/fulfillment, and the in-store experience.
Apps can continue to create brand awareness and act as a direct marketing channel to sell products to customers during and post-pandemic.
Local marketing strategies through apps post-pandemic
The virus outbreak has disrupted consumers' regular routines. There has been a shift in consumer habits and behaviors, and many anticipate that it will continue in the long term.
With the new social distancing norms ordained to all workplaces and public stores, people are afraid to touch any surface or be in close proximity to anyone.
A study showed that the surfaces pose a high risk of spreading the COVID-19 virus as it can stay there up to 72 hours. Retailers have to rethink their operations and include new contactless technologies in place to fight this problem.
Mobile apps have already been providing contactless experience to enrich the customer experience. Brands like Nike, Starbucks, and Amazon have already been using their apps to give personalized shopping experiences to a variety of consumer needs.
Contactless marketing strategies through apps can simplify many processes, including branding, advertising, in-store experience, loyalty programs, check-outs, and more.
Contactless in-store experience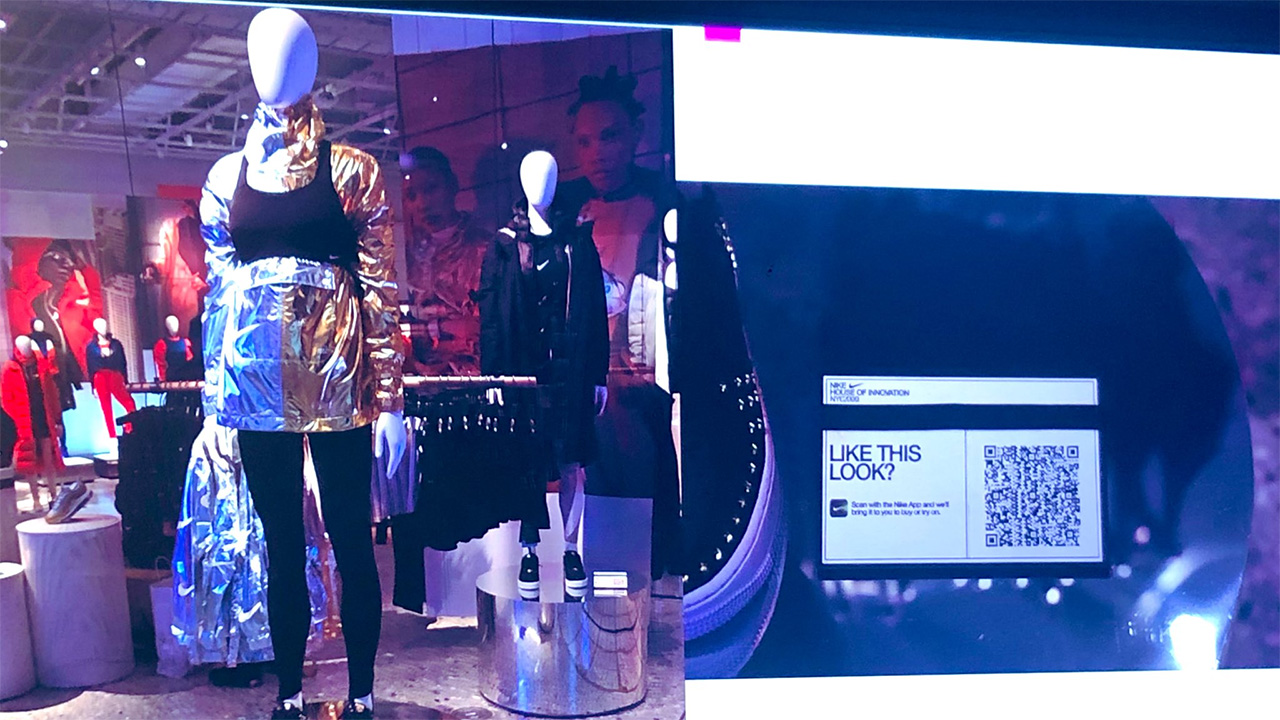 A few retailers are doing an excellent job of leveraging mobile apps to create a secure contactless in-store experience.
Retailers are creating QR Codes with logos and placing them on each item allowing customers to create a virtual cart. An automatic touchless picking system then delivers these items for customers.
The Nike App provides store-specific app features, such as scan and try on, and in-store unlockable coupons.
An interesting feature at Nike's flagship store is smart trial rooms. Customers can shop the Nike mannequins displayed throughout the stores. After scanning a QR code at the base of the mannequin, a head-to-toe look will appear on the app. Customers can see all available in-store sizes and colors and can request items to be sent to a fitting room.
Seizing the opportunity, My Size, Inc., the developer of a smartphone-based measurement solution, has launched a new feature to its MySizeID application for offline retailers.
The My Size app allows customers to experience contactless shopping by assisting them in finding their size by scanning a QR code or a barcode. The customers can also make the purchase using the MySizeID app completely free of contact.
Checkout-Free Retail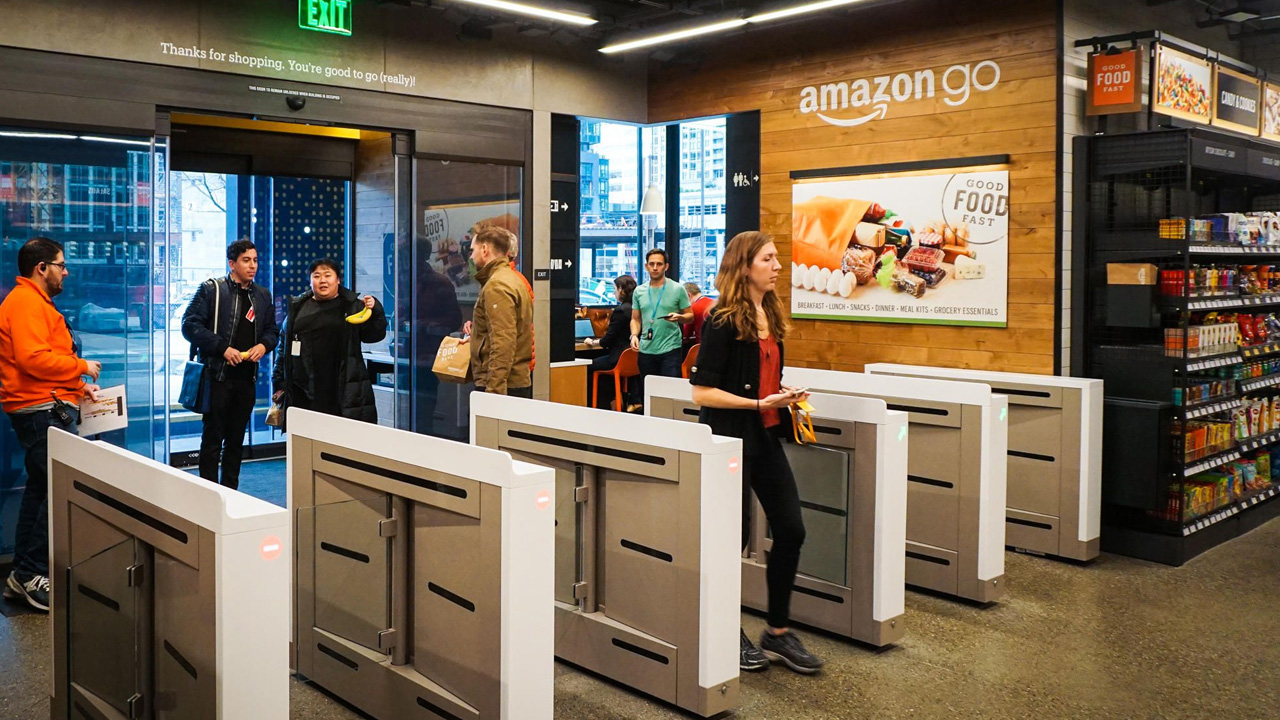 A recent survey showed that a whopping 87% of US shoppers prefer to shop in stores with touchless or robust self-checkout options.
The move towards self-checkout and cashless payments has been underway for years, but the pandemic has accelerated its development.
Checkout-free retail comes in two ways. Scan-and-go mobile technology and AI Computer Vision (AICV)
Scan and go: Customers walk into the stores. They scan products on shelves using the retailer's app. Bag their products and pay electronically by scanning a QR Code through the same app as they exit.
AICV: To enter the store, customers have to first scan the retailer's app. There are fewer or no store managers at the stores. They can take whatever they want off the shelves. Then they can leave the store whenever they want and are charged for the items.
Cameras and weight sensors on the shelves help identify products and people's movement and charge as they exit the store like an Uber or a Lyft.
The number of scan-and-go and AICV stores are quite less, but they are growing in importance. Amazon Go and Sam's Club are some of the retail chains that have set-up such stores in the US.
Check-out free retail is relatively safer for in-store shopping amidst COVID-19 crises.
Curbside pickup through mobile apps
Curbside pick up has been in trend amongst many shoppers in the US during this pandemic. Curbside is much like e-commerce, but the delivery location is usually a retail store.
Customers can place their orders through a retailer's app. The retail store packs the ordered goods and places them on their store's kerbside. The customer will come on the kerbside and pick up their order.
Curbside pickup through retailer apps relieves customers of additional costs like membership fees, delivery upcharges, driver tips, and other charges.
It also solves another problem in which e-commerce cannot- the SNAP payments. Retailers like Kroger and Walmart recently announced that customers could use the SNAP benefits by placing curbside pickups and in-store pickups.
Curbside pickups make sense when you factor in safety and economics given that most consumers are facing a financial crunch.
Loyalty programs through apps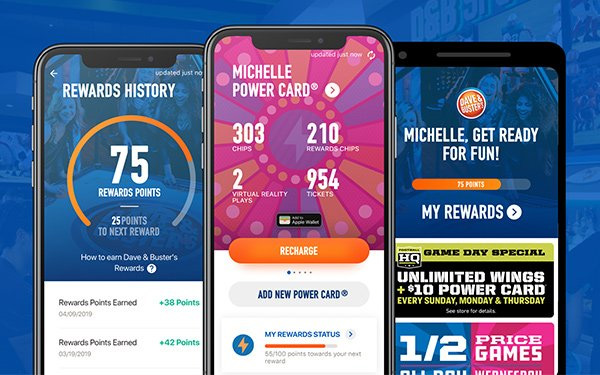 The pandemic has affected many industries and has slowed down most of its operations. Sectors like resorts, restaurants, and malls were severely affected as they were completely shut down.
We cannot expect the same crowds to be there at these public places post-lockdown. Such sectors have to rethink their business models and find new ways to serve their customers.
One such solution that has been driving customers from a long time to physical stores are loyalty programs. They are discounts, offers, and coupons used to incentivize customers to visit stores more often and gain benefits.
Businesses can create contactless loyalty programs to attract customers to their physical stores. Stores like Starbucks have already been providing customers with contactless in-store payments and various loyalty programs.
Joining the major restaurant brands, Dave & Buster have a mobile app to handle contactless payments and let customers manage their loyalty rewards.
Using the Dave & Buster's app customers tap the near-field communication(NFC) chips and handle contactless transactions.
The app also lets customers earn and manage reward points they accumulate from purchases.
AR-powered apps for contactless solutions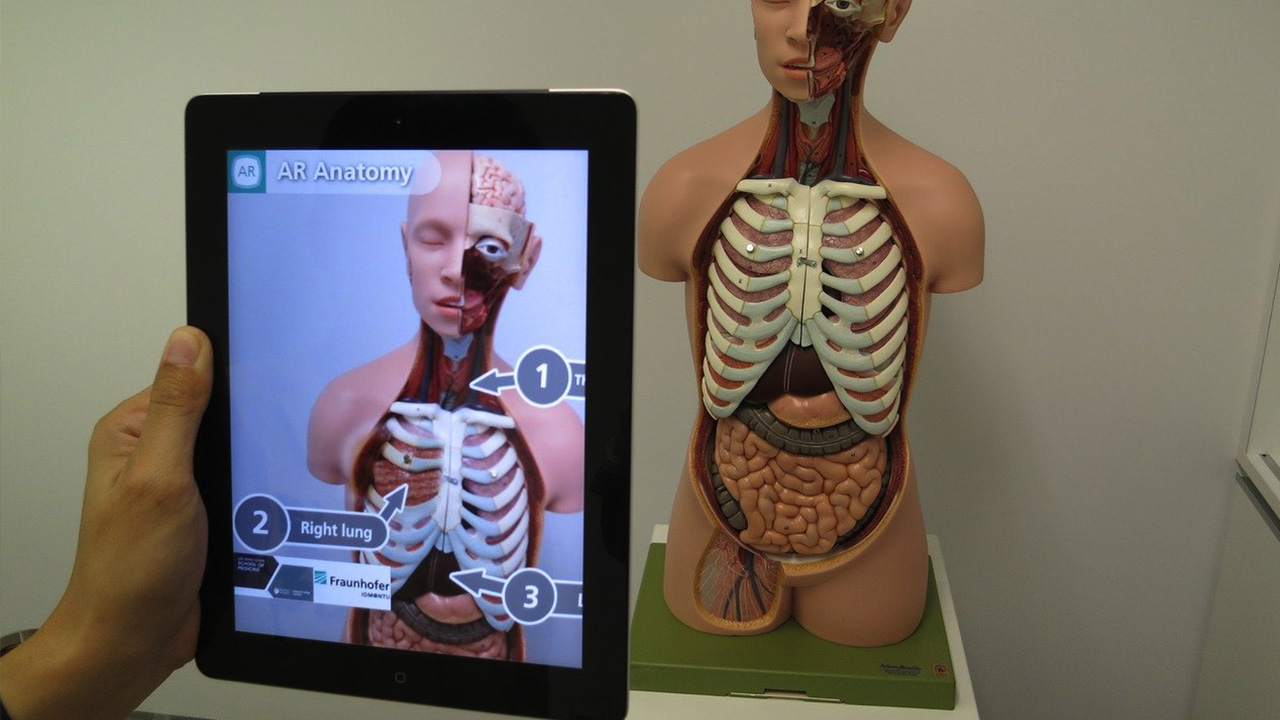 Many physical retailers are shifting their businesses online, experimenting with e-commerce business applications. But not all retailers can make the shift. Some are preparing themselves to reboot post lockdown.
Consumers are bound to be wary and conscious about how they interact with products in most of the brick-and-mortar stores after lockdown. Augmented reality can be a digital boost for customers to gain more information about the products and use them without actually coming in contact with the product or a salesperson.
Here are some ways AR can be deployed in stores
For in-store navigation
AR navigation features can help customers to get to preferred stores quickly and safely.
With the help of the in-store apps, retailers can provide consumers with directions to the stores from different mall entrances or with in-door maps to quickly find items in the store.
Consumers can be assured of their safety and quickly get to their destination without risking too much contact with other visitors.
Interactive product catalog
Catalogs sometimes don't stimulate consumer's imagination, especially with product catalogs of furniture and home appliances.
Businesses can place QR Codes on catalogs, and consumers can scan it via the retailer's app to view products in an AR space. Consumers can make better decisions and can project selected products in the areas and corners of their houses and workspaces. They can browse all this right from their homes.
IKEA launched this capability about six years ago with their IKEA Place app, helping consumers in making the right choice.
Such concepts can be adopted by many others like automobile manufacturers and real estate agents to provide quality interaction of their products and drive sales.
Branding and advertising
AR-powered marketing and advertising are effective in reaching consumers in an interactive and contactless way.
The technology helps create immersive experiences for consumers from just a single scan of a QR Code or by scanning the product logos.
AR can personalize advertising by allowing consumers to control the virtual environment they are in and the kind of experiences they want to immerse in.
Beacon powered app marketing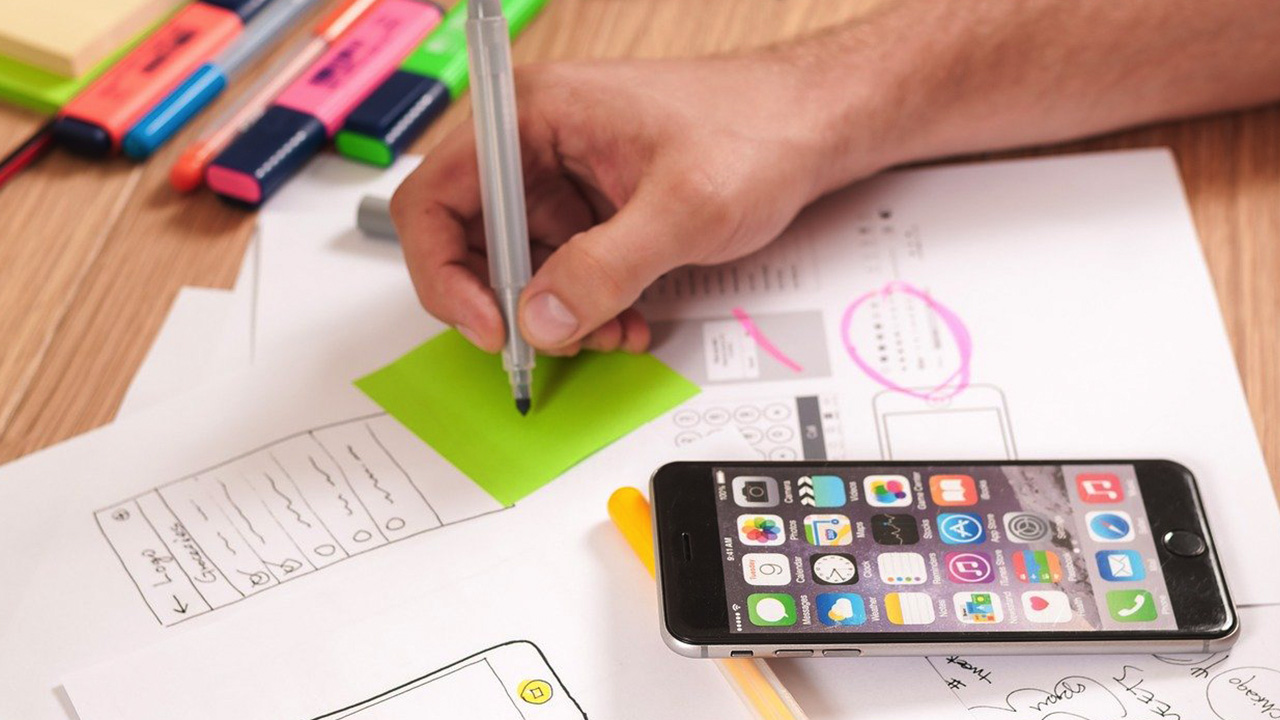 With strict rules and regulations around social distancing in many public places, authorities are using apps to monitor crowd congestion. In many of the largest airports in the US, a LIDAR based technology is used for crowd control and for analyzing crowd density to alert TSA of hot spots and social distancing practices.
Beacon powered apps can play a significant role in communicating with consumers at such public places. Using Beacons, one can send push notifications and alerts to consumers around stores, restaurants, resorts, etc.
Real estate agents can place beacons near the properties on sale, and when potential customers drive by these properties, the real estate app notifies of its availability. Consumers don't need to search and inspect properties physically; instead can view everything necessary through the app.
Popular resort destinations can use beacon powered apps to know a guest's history or preference questionnaires and the current location to predict what they might be interested in doing throughout the visit.
In malls and retail stores, beacons can monitor customers' movements and suggest specific stores. They can notify the store's traffic density and suggest a suitable time when they can enter a particular store.
Final thoughts
The latest data by App Annie showed that time spent on mobile apps has been rising rapidly during the lockdown.
Consumers spent more than $23.4 billion through app stores – making it the largest quarter ever for App Store expenditure.
As more people began to work from home, they were making use of non-gaming apps significantly on both iOS (65%) and Google Play (55%).
This is a clear indication for businesses to focus more on digital marketing through apps. Consumer-facing companies must create an experience aligning to the new reality of post-pandemic conditions and tailor their messaging to customers' needs.
Many services like travel and hospitality have experienced disastrous effects due to their complete shutdown in the lockdown.
They can revive themselves back by localizing their digital marketing strategies through mobile apps. Campaigns for specific locations aligning with the new routines of customers are necessary.
Preparation is the key to surviving in this unprecedented crisis. By including technologies and apps, businesses can reassure, build better and stronger customer relationships. Mobile app marketing can help businesses to be in high demand and help them survive through tough times post-pandemic.