Studies reveal that people prefer using mobile apps more than websites. ComScore ran a survey in which the top 500 mobile apps were compared with top 500 websites and it was revealed that mobile apps received 8.7 million more unique visitors. Furthermore, 40.40% users tend to make more purchases after they have downloaded the app of an eCommerce store. More and more businesses are starting to adopt mobile apps because you have to be where your audience is.
Businesses hire professional mobile application development agencies to design and develop a stand out mobile app for their business. After they have launched and followed all the latest tactics to market their mobile app, they end up thinking about how to improve their app engagement. The hardest step for businesses and mobile app developers is trying to engage and re-engage their visitors. This is where 'push notifications' come into the picture. Push notifications play a vital role in keeping your visitors engaged and making sure that they keep coming back for more.
I doubt that you've never heard of 'Push Notifications before', but by any chance, if you don't know what Push Notifications are, I've explained them below:
Push Notifications:
Push notifications are automated messages sent by a mobile application to a user when the app is not in use. This is done without the request of a user. In other words, push notifications are messages that pop up on mobile devices, they look like text messages but are only received by users who have installed the mobile app. Have a look at the image below: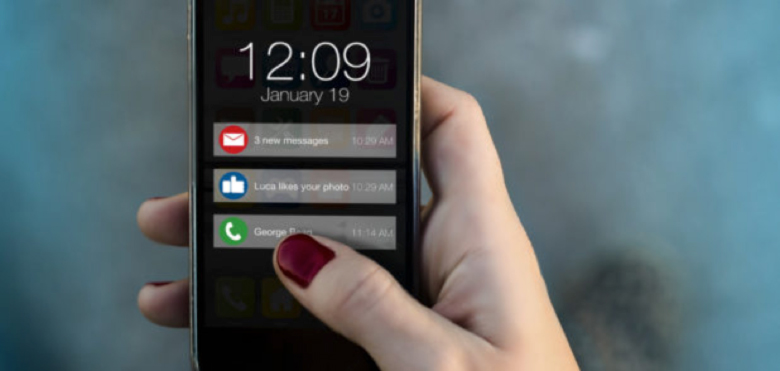 It's essential to understand that integrating push notifications doesn't automatically boost your conversions. In order to derive positive results, you have to follow a certain 'Push notification' strategy. From my experience of working closely with businesses, app designers, and developers, I have devised a successful push notifications strategy.
Push Notifications Strategy for Better App Engagement
Ask for User Permission
Due to cybersecurity concerns and hackers trying to gain access to our sensitive information, users are becoming very reluctant about sharing their personal information. Especially after the Ransomware incidents, people are more aware and alert to security threats. If you launch a mobile app that asks for a user's credit card details while signing up, the users are going to uninstall the mobile app faster than then you can say 'mobile app'.
This makes it essential to ask user's permission to send push notifications to their mobile apps. However, many apps fail at getting permission from their users. Try to ease any privacy concerns that users might have. Show your users that you truly care about providing them a good user experience and you're motivated to help them achieve their goals. Furthermore, it would be a good idea to send the request at a later time. For example, if you have a messaging app and a user sends their first message, you can send a follow-up message requesting to send them push notifications.
Timing Matters
Timings are everything. The time at which you send out push notifications can either annoy your users or delight them. Remember the first rule of sending push notifications, 'never annoy or bother your users' especially when they are busy or sound asleep.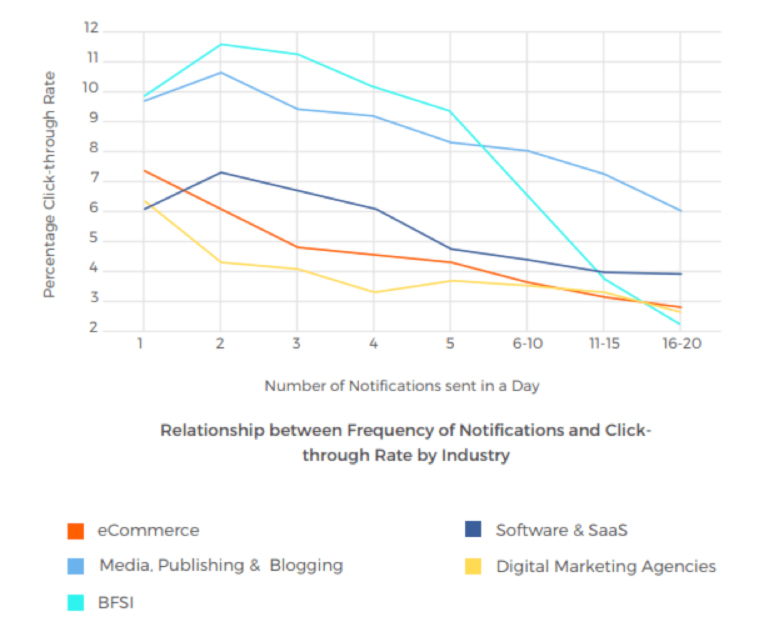 The time at which you should send out a push notification entirely depends on who your audience is and what your notification is about. General studies do reveal that the best time to send push notifications is in the afternoon. Other than this, here are four timing insights that you can follow:
Avoid Scheduled Notifications: A survey reveals that push notifications that are sent when a user might be engaged with an app have 3X higher open rates. Figure out the time that your users typically engage with your mobile app and notify them at that time.
User's time zone is important: You definitely want to avoid waking up your customer in the middle of the night. Analyze your user's time zone and ensure that you notify them at an appropriate time.
Increase the number of pushes sent to disengaged customers: Be careful when sending push notifications to disengaged users. If you send them too many notifications, they could get annoyed and delete your app. Instead, you should start to add more time between each push.
Keep Testing: It's important that you keep testing your app's notification strategy to find the best time to reach out to your users.
The Type of Content is Important
It's important to remember that push notifications are designed to deliver a very specific message. Make sure that you keep your content short and include clear call to action. The next important thing to remember when deciding the content for push notifications is to use entertaining and catchy phrases. And most importantly, it's essential that you follow the trend of 'Personalization'. Send personalized messages to users that will instantly grab their attention.
Approach your users by their names and also include the details about the last actions that they performed in the app. For example, if a user adds an item to their cart, then you send them a push notification saying something like: "Hi Samantha, the shoes you added to the cart are now on sale".
Personalization
Personalization is the process of tailoring a customer experience based on the information collected about an individual customer. A variety of organizations use Personalization to improve customer satisfaction.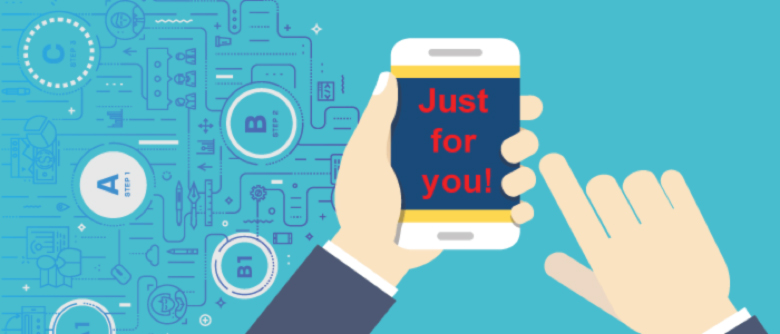 Personalization depends on the segment the user is on and the activities they might be performing. For example, if you have an eCommerce mobile app, and a user abandons their cart, then you can send them a push notification that will land them on the checkout page. In another case, if you have a gaming app and the user has left a level without completing the mission, then you can send them a notification such as: "Finish the level and get a 100 coins".
Personalized push notifications tend to have a four times higher open rate as compared to other notifications.
Add a Visual Appeal
By adding pictures and videos to a push notification, you can greatly enhance your storytelling game and trigger a stronger emotional response. A picture is worth a thousand words, and it speaks louder than plain text. A study revealed by 'Urban Airship' reveals that adding imagery to a push notification can boost its open rate by 57 percent. For example, if you're putting a product on sale, then you can add the picture of the product on the push notification. If a deal is expiring, you can add an image of a clock.
Wrapping Up:
After you have hired a mobile apps company to design and develop an engaging mobile app, it's up to you to market it according to the latest trends. And after you have gotten users to download your app, your next goal is to keep them engaged. Push notifications are an excellent and free way to boost your conversions and revenue. This is a privilege that you shouldn't abuse. Instead of bombarding your users with push notifications, it's important that you be thoughtful, relevant, and helpful to your users. In return, you will get increased customer retention and more loyal customers.