Are you planning to make a new mobile application? You might have millions of ideas in your mind, but do you know that which ideas are the best and give you a huge success.
We all know that there were some successful application ideas that were a total shot in the dark and even the most researched ideas might not be fruitful. In many cases, winning applications are successful for a reason.
As we all know that great idea generation is not a gift that is given to only few selected people, instead, it is the best process by which any of us are capable of carefully exploring step-by-step methods to find our own solution to any problem.
It doesn't matter whether you are a seasoned creator or a novice, this post will provide you information on how to brainstorm unique yet effective mobile app ideas for 2017.
Let's have a look at the Reasons to Brainstorming Different Application Ideas for 2017:
A Complete Comprehending of the Industry
As we all know that the application industry becomes the most lucrative businesses as day-by-day more and more people are using mobile applications for their daily tasks. It expands the demand for new applications in different categories. But do you know that which is the biggest challenge for both users as well as for app developers?
Understanding the app ideas and discovery, it is biggest challenge for both users and developers. In this highly competitive market, it is extremely difficult to say that which application will be successful and which app will be a total boom.
We all know that there are lots of popular app ideas that are mainly a shot in the dark; however, a basic understanding of the market and the needs of customers is important for generating effective app ideas.
Every single day, thousands of new mobile apps are released, and not all the released apps are getting success. And you know people always want to best app for their phones. It is important to comprehend the interest of people and develop a straight line of thought.
It is difficult to find best apps from Play Store and App Store. So must read How to Find Best Apps.
To develop a unique application, it is must have a unique idea in mind, so make sure that you have a look at the number of downloads for each category and it will give you a complete idea of the interest and need of most app users. Frequently, users uninstall all those applications that do not interest them, so ensure that your app idea must be unique.
Consider Statistics
Both Android and Apple operating systems are extremely popular and user-friendly mobile operating systems in the market. If you want to understand the trends of the app industry, you should study Google Play Store and Apple Store respectively.
As of June 2016, the number of applications obtainable for download in leading app stores is 2.2 million apps in Google Play Store and 2 million at the Apple app store. Moreover, below, you can see the statistics that represent the popularity of different categories in both Apple store and Google Play Store: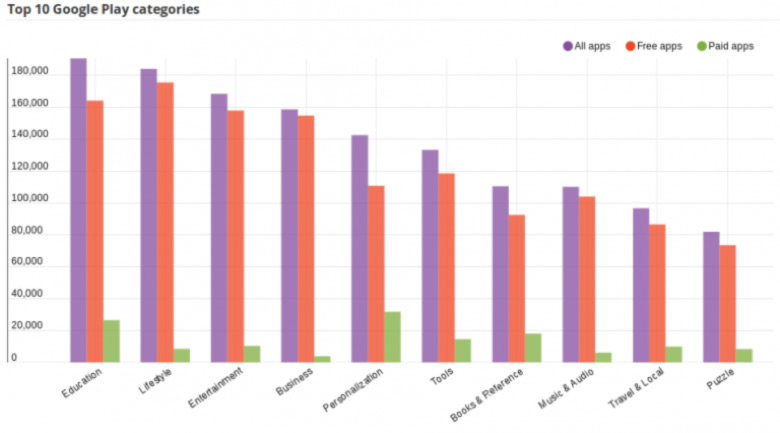 Ensure That Your Ideas Stand Out
In the last couple of years, the demand for unique mobile applications has increased. Now, only unique and useful content is helpful to get an extra edge among competitors. Even a popular application also requires a right marketing and online PR so that it stands out from the rest of the applications.
Various mobile app development companies endeavor to come up with a unique app idea that caught the attention of users.
However, you can find enormous app review websites, where you can submit your mobile app and get feedback for it. In addition to this, if your application is giving a solution to any problem or offering a top-class entertainment, it can be the next big thing.
Give Attention on Solutions
As we all know that the popularity and availability of smartphones have changed the whole way we live our lives and perform daily tasks. Using smartphones, people can reach for information that they are looking for and many other solutions that they wanted to get. But looking for the right information requires huge research and time that can be a tiring act.
However, the whole idea of any application is information at your fingertips. The solutions-based application provides the multi-faced functions in any user's life. Such type of applications is mainly designed and developed for mobiles and tablets to provide users specific information.
Knowledge-based Applications
In the above-mentioned statistic, you may have look that the most downloaded category in the application is education, lifestyle, business, and health and fitness. These are some of the top categories that are leading in the industry.
This is the time of information, where information is scattered over the internet; however, if you are developing an application that provides specific information or education, it is bound to make the cut.
What you can do is research on these apps and find that how these apps are providing information to its users. You can find that these apps spread information in innovative ways like quiz formats or by inspiring others to take part in different tasks and become entrepreneurs by providing excellent business ideas.
However, if you have decided to develop a high-end mobile application that performs well in 2017, you should try to develop an application which acts as a solution to many common problems. A solution and knowledge based applications are leading in the market and offering effective solution and information in an innovative way.
You can showcase your own Apps & Games here. TheGreatApps – The World's Best Apps Gallery. Submit Your Apps & Games Here and get a huge response from users. It is the best way to promote your Apps & Games. If you have any query regarding submission then feel free to Contact Us.