You might have heard a slogan, 'An idea can change your life'. Yes, this is completely true if you are firm on your dream and trying hard to achieve it. But what about, if you have some unique app ideas. You have a pool of dreams to achieve any of them. I know you are feeling excited, so, let's start with one basic question.
In this COVID-19 pandemic, did you or do you imagine your life or day without mobile and internet?
I strongly believe you will raise the Big NO bar here. Right?
Well, that's not just you, but everyone joins you in that league. And moreover, this pandemic has made everyone mobile addicted.
So, let us modify the old and basic slogan here:
Food, Water, Shelter + INTERNET.
And when we talk about the internet, mobile devices or electronic gadgets are considered, eventually. Therefore, 80% of people access the internet through their mobile devices. Moreover, they are spending much time on mobile applications. Amid COVID-19, people have become more dependent on mobile applications. Starting from online shopping to eLearning, mobile apps have made everyone's life easier. With just a few taps through mobile apps, everything can be managed so easily.
However, the pandemic has forced everyone to use mobile phones and the internet, hence the usage of mobile phones has tremendously increased. As per the Statista report, there are approximately 4.41 million mobile applications available on both Google Play Store and Apple App Store.
So by this data, we can imagine that there's an app for everyone and everything. From booking cabs to online food delivery to getting medical checkup done to household services, the mobile app development services hold a strong command in every sector to deliver user-friendly app solutions.
On the other hand, if you want to enhance your business and lead to the path of success, you need a customized mobile app for it. Therefore, it's necessary for startups to indulge in great research and come up with unique ideas that might reflect on their revenue. They have to develop feature-rich and user-friendly mobile apps which might satisfy users' thirst to become successful.
Here, we are curating the top ten ideas that can make your startup highly successful if you implement it. Let's go through these customized mobile apps ideas one by one.
Unique App Ideas That Will Change The World
1. Telemedicine Apps
With the consideration of the current situation and scenario, the doctors and medical staff are frontiers amid COVID-19. Telehealth has become the moving spirit of healthcare. On the other hand, many people across the world are suffering from mental and physical illness due to many reasons. However, it's not easy and possible for every doctor to reach out to every single one to pay personal attention. They find it a challenging task, though.
Therefore, the country and health experts are looking towards mobile technology to make their work hasslefree. As we are aware that many telemedicine apps seem to be more promising for remote healthcare services. The users can have quick access to health experts and get their body checked up during this lockdown without visiting their hospitals.
So, if you are sick and not feeling well, you don't have to worry about booking an appointment or visit a doctor. All you have to do is to download the app and consult the expert there and by telling you about your illness, he/she will examine you and prescribe medicine accordingly. This whole consultation can happen either over the chat, or a phone call or a video call. Hence, it's a convenient option in the healthcare industry.
Moreover, AI-enabled apps will allow doctors for basic diagnosis to cover more patients in a much larger area. In future, telemedicine apps will definitely uncover the potential to make the healthcare sector more affordable, personalized and effective.
Features Needs to be Included in App Are:
Virtual assistance and chatbot
Calendar in your app to schedule appointments
Appointment reminder
Collaborate with a pharmacy for medicines
Certified doctors
Push notifications for new features and offers
Live video section
So if you want to develop a telemedicine app for your startup, then you can go for an app like doctor on demand mobile app.
2. Wellness and Health Inspecting App
This pandemic has taught everyone to be more protective and cautious from the life-threatening disease of COVID-19. Everyone is taking care of themselves very seriously. They are on the verge of building strong immunity. And this cannot be possible without consuming a healthy diet and nutrition in your body.
There are several apps available in the market which monitor your health and nutrition level required to fight against the Coronavirus. However, this has changed the whole scenario of the healthcare industry. The idea of wellness and health apps can perform a plethora of functions to offer seamless services.
Hire mobile app developers to build a health inspecting and nutritious app that will manage all medical procedures and help users to track daily food consumption, diet, burn calories, heart rates, BMI, blood pressure, and many more as per age and body type of users by keeping in mind this flu season.
Features Needs to be Included in App Are:
Exercise and diet plan
Healthy tips from professional experts
Integrated with wearable devices for easy tracking
In-app video calling feature
Calories and heart rate tracking
So if you want to develop an app for your startup, then you can go for an app like health and fitness app.
3. On-Demand Food Ordering App
The food industry has been seen on the verge of adopting and implementing new technologies. It is the only industry which has no return road because this is the basic requirement of humans.
Hence, whether it's your special day or a house party or tired of cooking, you can always have a backup for your meal. On-demand food delivery apps are the best option in recent times through which you can order online food from your favourite restaurants with few steps. The apps should provide multiple payment options so users could choose any of them with their convenience. Then food will be delivered to your doorstep within 30 to 40 minutes.
As per the report, around 53% of Americans are considering themselves as foodies, which you could take advantage of by offering them an easy and user-friendly on-demand food delivery app.
Features Needs to be Included in App Are:
Food customization option
Search tool (restaurant, menu, cuisine, etc)
Seamless payment integration
Push notifications for discounts, offers, new restaurants and dishes
Custom review and feedback option
Live tracking of order
4. Online Dating App
In this ever fast and digital world, online dating has become very popular among youngsters these days as people are more comfortable to meet and date a new person across the world. However, they know it's not easy and time-wasting to hunt for and meet partners offline.
Hence, the online dating app provides them with the perfect opportunity and solution where they can meet new people, get to know each other and decide with mutual consent. That's the reason, the dating app industry is growing rapidly and honestly, it will not stop in the future as well.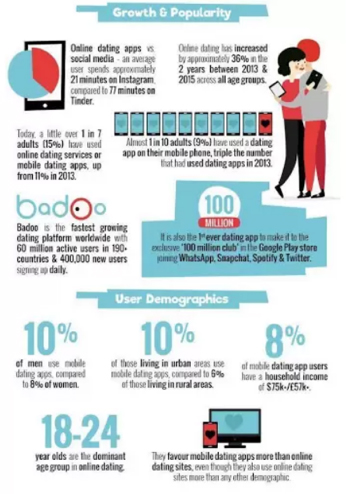 As you can see in the above image, the popularity of online dating apps has been increasing and an idea of developing a dating app is indeed amazing. You can find the best mobile app development company which helps you develop this app.
Features Needs to be Included in App Are:
Search filter
Live chat and video option
Partner preference option
Photo album upload
Membership program
5. On-Demand Taxi Booking or Cab Sharing App
As we know, the on-demand app has taken over every industry with its seamless features and functionalities. It has gained its popularity in no time as well. It has also affected the transport and logistics industry and pumped the system they used to work before.
The transport industry has vast options and pushed the door to success with various opportunities. Apart from the on-demand taxi booking app, you can develop cab sharing, e-scooter apps, or bicycle apps.
As we know people are looking for various travel options through which they can leverage the services in a very easy manner and an affordable cost. You can develop like an Uber clone app by integrating more live features and giving more comfort to the users.
Features Needs to be Included in App Are:
Driver details
Total fare and time estimation
GPS integration
Route tracking option
Cab availability
Types of cabs
Payment integration
6. Video Streaming App
As we know, we could not step out of the house in this lockdown, what were the majority of the people doing? People have found new love and the best way to get entertained on the OTT platforms, aka online video streaming apps.
Until now, people used to watch videos while travelling or just to pass the time. But this pandemic has forced everyone to switch to the online streaming apps for the entertainment purpose.
Moreover, this COVID-19 has also forced the entertainment industry to release their shows and movies on video streaming applications. Having an annual or monthly subscription, you can easily enjoy the show you like on your mobile devices. That's why it's called a first-day first show, hence, your audience can never miss out watching any movie lately if they are a movie fan.
Live video streaming apps encourage users to broadcast live to a wide audience across the world. By implementing various features into your app such as find the famous streams to follow, show recommendations, upcoming shows, and more, you can offer users seamless entertainment services.
Features Needs to be Included in App Are:
Create a user profile
Add to wishlist
Show recommendation
Different genre options
So if you want to develop an app for your startup, then you can go for an app like an online streaming app.
Wrapping Up
The purpose of turning these app ideas into reality is to boost your startup businesses. Moreover, you have to ensure that the application also stands the test of time. Hence, crafting this idea and developing an app is not so challenging if you have clear requirements, vision and goal. Then your startup business can turn out to be a successful startup.
To build a successful app, the first thing you have to do is hire an iOS or android app development company that can integrate an advanced level of features with your android and iOS app. Your app can become a backbone for a successful business if you implement it with sufficient features and target the right audience.
So grab it before someone else steals the idea you are dreaming of!