Android is a popular operating system and Android smartphones are highly used across the globe. It is supported by the Google Play Store which offers a huge pool of Android apps. We install and use multiple apps and eventually end up cluttering our devices. The manual process of cleaning Android can be a little tricky as there are tons of folders and subfolders. The Best Android Cleaner app can help you speed up Android and keep it clean. We have tried, tested, compared, and listed the top 5 Junk Cleaners for Android in 2023.
Smart Phone Cleaner
CCleaner App
Avast
Norton Clean
Avg Cleaner
Let's explore the best tools and utilities to optimize your smartphone!
1. Smart Phone Cleaner
Smart Phone Cleaner is designed by Systweak software to speed up Android. It helps to manage the space of your device. If you are looking for phone cleaner apps, Smartphone Cleaner is the best option for you to speed up Android devices. This is the best Android cleaner which enables you to remove unnecessary files or junk files from any smartphone.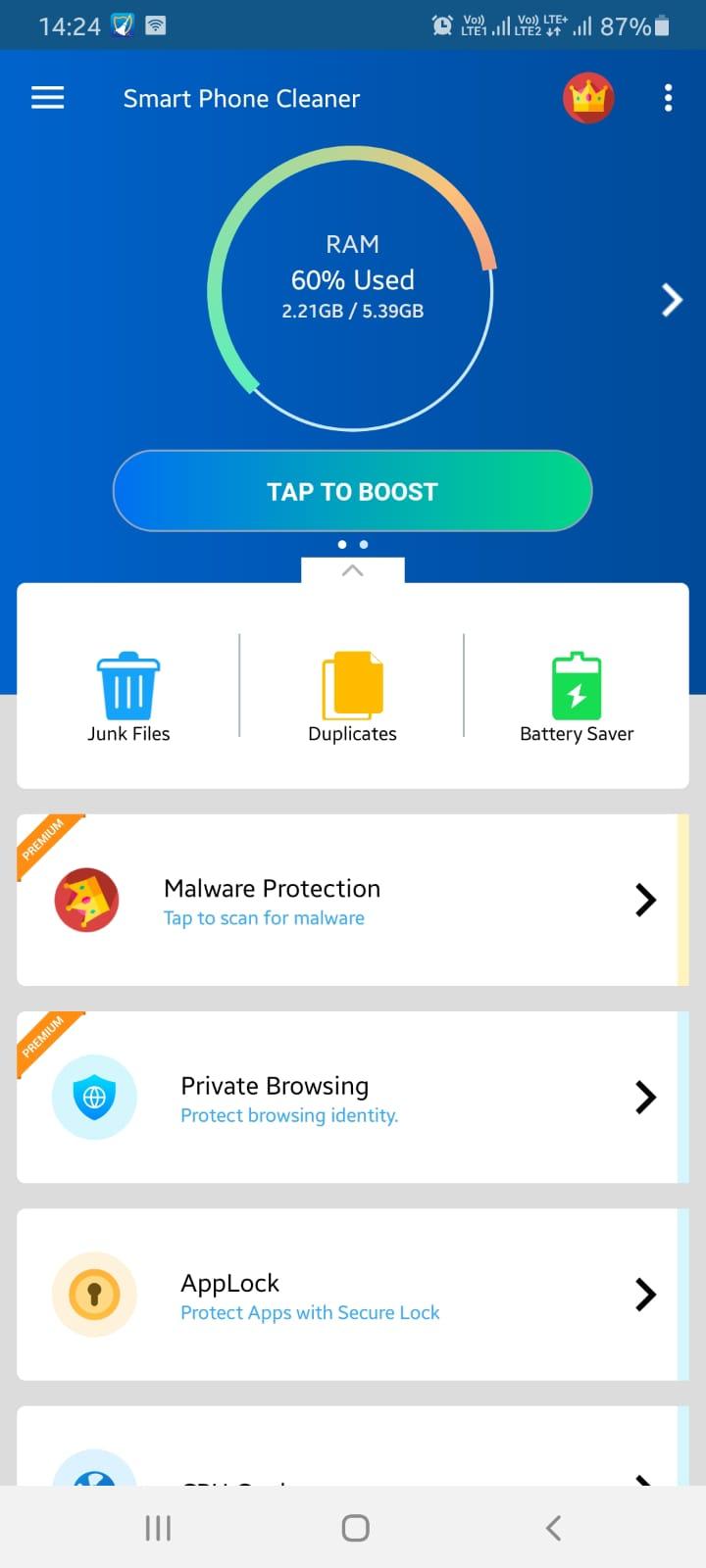 Features
It will enable you to clean and optimize your Android device with just one click.
It gives a private browser so that you may safely browse the internet anonymously.
It will help you to manage your WhatsApp files, along with music, documents, audio, and videos.
An outstanding game booster for Android helps you to optimize your device and the game apps.
Inbuilt advanced anti-malware function that will protect your device from cyber-attacks.
The app also allows you to hide and archive apps if required.
Pros
It has an anti-malware facility.
It has a special WhatsApp management module.
It provides auto cleaning in a fixed interval of 2, 4, 6, and 8 hours for Android devices.
This is an all-in-one app that helps you to clean up Android Phones.
It can hide app features.
Cons
You need to buy a paid plan to get all the features.
2. CCleaner
CCleaner is one of the best Android optimizers which was developed by Piriform Software. CCleaner has also been ranked as the best PC optimizer for decades. This junk cleaner Android helps to remove unwanted files from your Android device that the other software has left behind. People like this tool the most due to its comprehensive features, free version, and easy-to-use interface.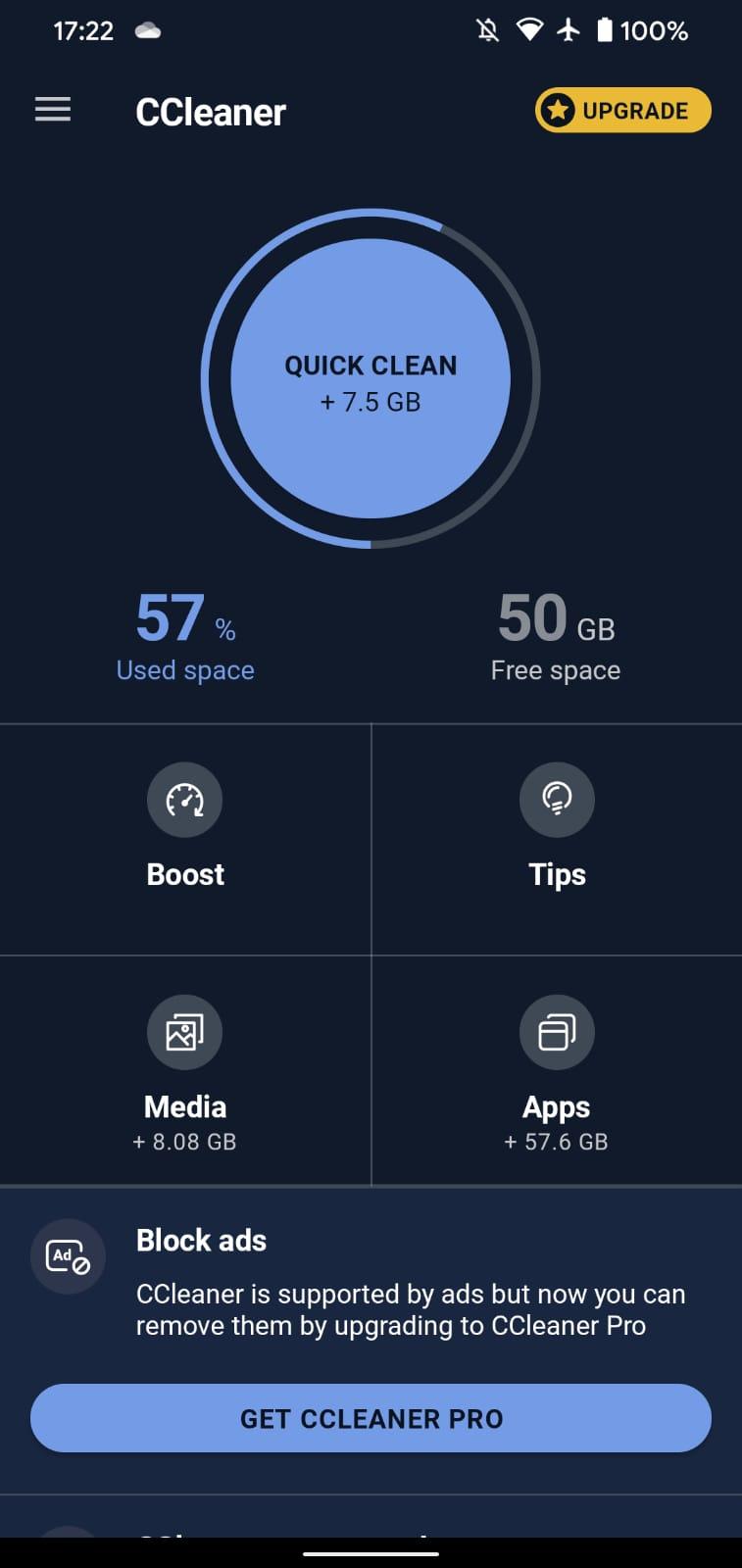 Features
It offers standard privacy protection.
It helps to optimize the internet speed of your mobile.
You may personalize the cleaning features according to your requirements.
It enables you to assess the performance of the battery of your device.
It offers improved security features.
Pros
Comes with comprehensive cleaning features.
It has an intuitive, simple yet easy-to-use interface.
Can monitor junk files and other clutter on a real-time basis.
Can update all the installed apps automatically.
Comes with a free and paid version.
Cons
It will pop up ads while using a free version.
3. Avast
The popular Avast is one of the best security software for Windows and offers optimization and multiple utility options for your Android. It enables you to clear out junk files from your Android device to improve its storage space. It is capable of turning off the Wi-Fi, Bluetooth, and mobile data automatically when the battery is low.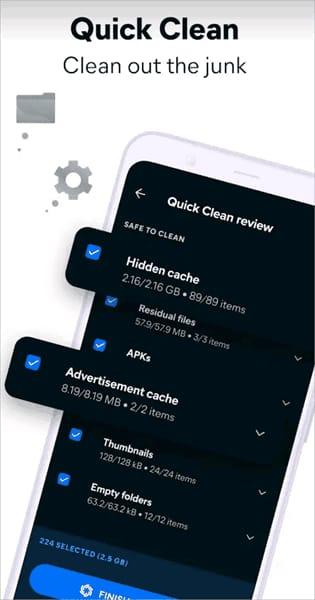 Features
It can hibernate your device to boost its performance.
The tool enables you to remove old, duplicate, and poor-quality photos.
It can remove pre-installed bloatware and other unnecessary apps from your mobile.
It turns off CPU, Memory, and traffic-draining apps.
Pros
It has a recycle bin.
It can connect with cloud services.
You may get a safe and effective cleaning experience.
It provides massive cleanup.
It has a stylish design.
Cons
It uses a lot of background data.
4. Norton Clean
Norton Clean is one of the best Android security solutions that comes with the best Android cleaners. It is designed by Symantec. It helps to optimize the memory of your device by deleting unnecessary files and funk from your Android mobile. It comes up with a pool of unique optimization features and the best security features to keep your data safe. You may get it on the Google Play Store.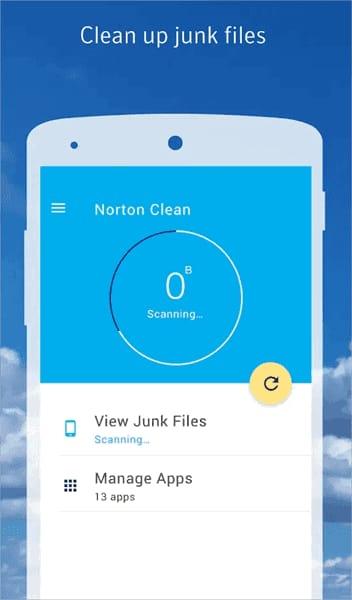 Features
It deletes the cache files to free up the disk space of your device.
It has a junk remover feature with which it first assesses the files and then deletes the junk files.
It helps to uninstall bloatware, delete rarely used apps, and move the apps to the SD card.
It can accurately assess, identify, and delete unnecessary files.
It enables you to remove the manually installed APK files.
Pros
It can clean junk.
It helps to manage apps.
Offers robust security features.
It helps to free up space.
Cons
The price of the app is very high.
4. AVG Cleaner
AVG Cleaner has been one of the best FREE security and optimization suites for Windows and now they introduced the best optimization and security solutions for Android and other platforms. It is the best Android cleaner that helps you speed up Android devices easily by removing junk from the devices. It comes up with a lot of useful features.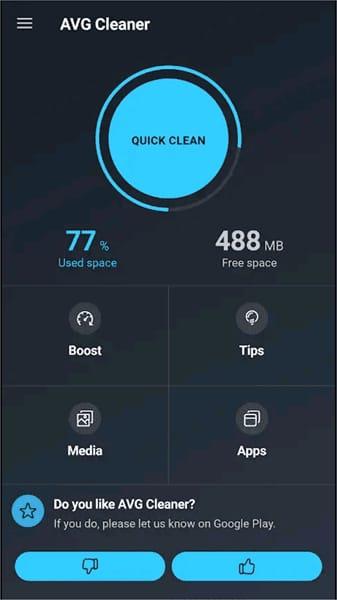 Features
It helps to remove unnecessary and unused cache files.
Light-weight app to optimize Android and keep the storage clean.
It has an auto-reminder feature with which you may get a reminder to find junk and delete it.
You may find and remove the large files easily by it.
Pros
It offers data encryption.
You may customize the reminders.
It enables you to request data omission.
Cons
It takes up a lot of space when you install it on your device.
Conclusion
Selecting the best Android cleaner for optimizing your smartphone is a little tricky as there are dozens of free apps available on the Google Play store. Not all of them work as described. You have come to know about the best phone cleaner apps. Every Android optimizer comes up with unique features. They work as a very good game booster for Android. So, you may pick the junk cleaner Android we have mentioned above in the list as per your requirements.