Mobile app analytic tools are market focused tools created to help companies to power up their digital marketing game. Here are top tools to focus in the year 2019.
Do you have all your number collected with the right tool to get ahead of your competitors in today's ever-evolving market? And do you know that mobile app analytics tools can really help you to gather these insightful numbers? Do you have any idea about the pace with which the market is evolving? And does your business has enough space to integrate the new add-on in the trade for better growth and performance?
If yes, congratulations! You are playing the game extremely well. In case, it's a no we have all the inside information ready for you here along with the best analytics tools that can help you reach at the top as the most renowned digital marketing agency.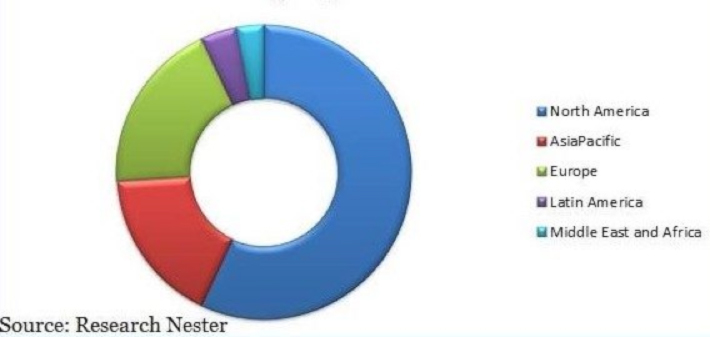 Geographical Global Mobile Analytics Market Share by 2024
Before we talk about different tools and how they function, here is a brief on the different types of mobile app analytic tools.
Although the types can be categorized differently, we have here differentiated the tools in three distinctive categories:
Marketing Analytics: App marketing analytics covers the tool that offer insights on how to monetize the app, get increased ROI along with adding on new clients.
In-App Analytics: It gives you an idea on how the users behave within the application in order to offer demographics to the users.
App Performance: It is concerned in and around everything that affects the app performance in positive and negative manner.
Now, let's have a look at five highly feature-rich mobile app analytics tools:
Google Mobile App Analytics
Google Mobile App Analytics is available for free both for Android and Apple users. The analytic tool gives information on user acquisition, their engagements with the website and the outcome that comes up by taking certain steps. There are exceptional features that come up with this tool. It helps track the audience meaning finding out the places users are coming from. Along with the information on their active session. The tool has also the feature for event tracking.
Flurry Analytics
Flurry is by Yahoo and a great tool to monitor a number of metrics. It offers information on in-app user behavior tracking via event along with app user segmentation and interest. The tool uses AI to predict app demographics and much more. The tool also helps define events and see user paths. It also helps to create funnels for further analysis. Flurry Analytics gives extensive and detailed reports.
Countly
Countly supports a range of devices including Android, iOS, Blackberry, and Windows phone. The tool has been developed to give a deep insight on users' behaviour. Use this tool to find any of the metrics including targeting relevant audience, segmentation, and attribution tracking. There is enterprise edition in the Countly along with cloud edition to offer more specific results to the users. The tool captures all the information related to the users in order to give insightful information.
Tune
Being a mobile analytic tool, Tune offers a number of features for effective analysis. The tool offers insights on app store analytics, fraud prevention, marketing analytics, marketing intelligence, attribution analytics and much more to it. The tool is available free of cost for the users and also helps to gain desirable goals. Tune can also be used to increase app discoverability in order to be more specific for the users.
Localytics
The handy tool is available free and through a premium purchase for the users. Localytics supports platforms including iOS and Android. The tool comes with a software development kit for the developers to suit to the various requirements. Integrating this app helps users to get insightful results. It is a tool developed specifically for improving user engagement.
The Bottom Line
This was all about the five feature-rich mobile app analytics tools. Using these tools could prove to be an exceptional experience for marketers as it helps them improve the user engagement, app acquisition, and other such metrics that help increase the user's interest. Moreover, the use of these tools needs the specific knowledge so that extraordinary results could be cultivated of the same. All the above-written tools come with well-explained ways to grab more and more audience. Thus, have a look and a try on any of the tools that suit to your requirement in the best way.