Apps are an integral part of everyone's life now. From basic things like making lists to looking up locations and booking trips, there is an app for everything and we depend on them for our functioning (probably more than we should if I'm being honest). If you say that you have never used an app to make your life easier, you're lying, whether WhatsApp or Google Maps, you've used it.
Since there are so many apps available to us for various reasons, providing so many different features, I've created a list of the 7 must have phone apps just for you.
Flipboard
Flipboard is basically a news app that brings you personalized stories and conversations that you are interested in all at one place. With everything in one place, reading, collecting and sharing stories has never been easier.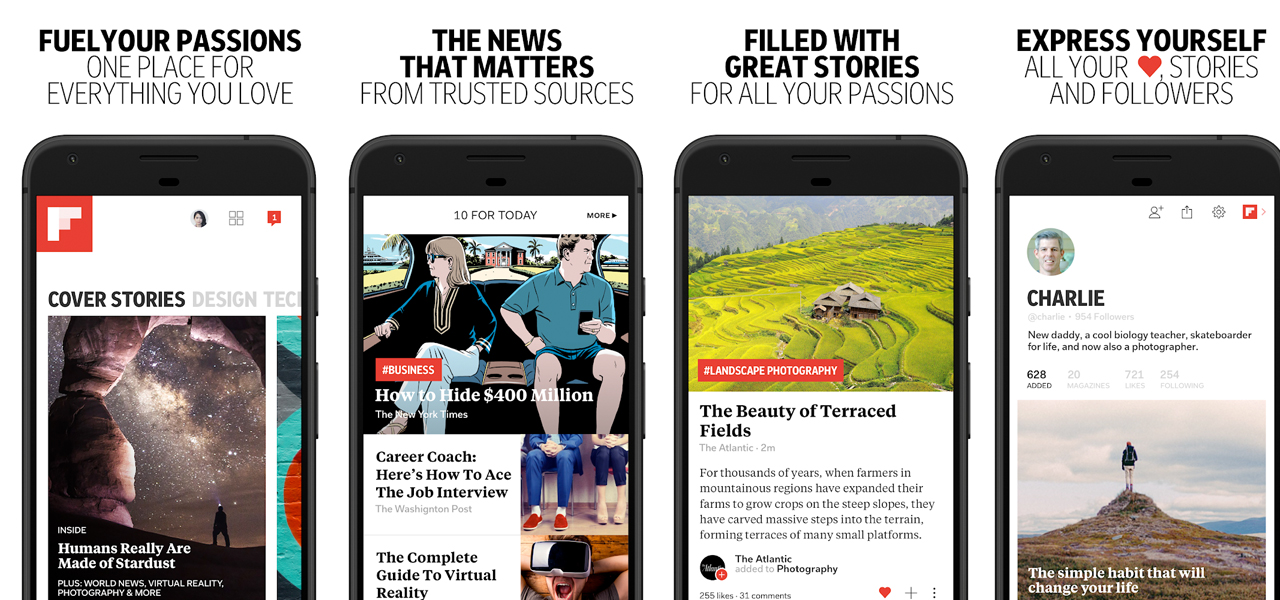 All you need to do is download this free app and pick your interests and Flipboard creates a personalized magazine for each of them. With a variety of interests available from news to travel to technology and people to follow, it has something for everyone. Along with all this, with a bit of digging, you can choose a particular subsection of your interest and have a magazine for that.
The beautiful design along with its personalization feature makes it a one-stop shop for all your stories.
TuneIn radio
As the name suggests, this app is a radio app that enables you to listen to live stations from all over the world for free. It gives you access to more than 100,000 stations which can be filtered by region, genre, language, etc. along with various podcasts, sports, talk shows or news programs right in the palm of your hand.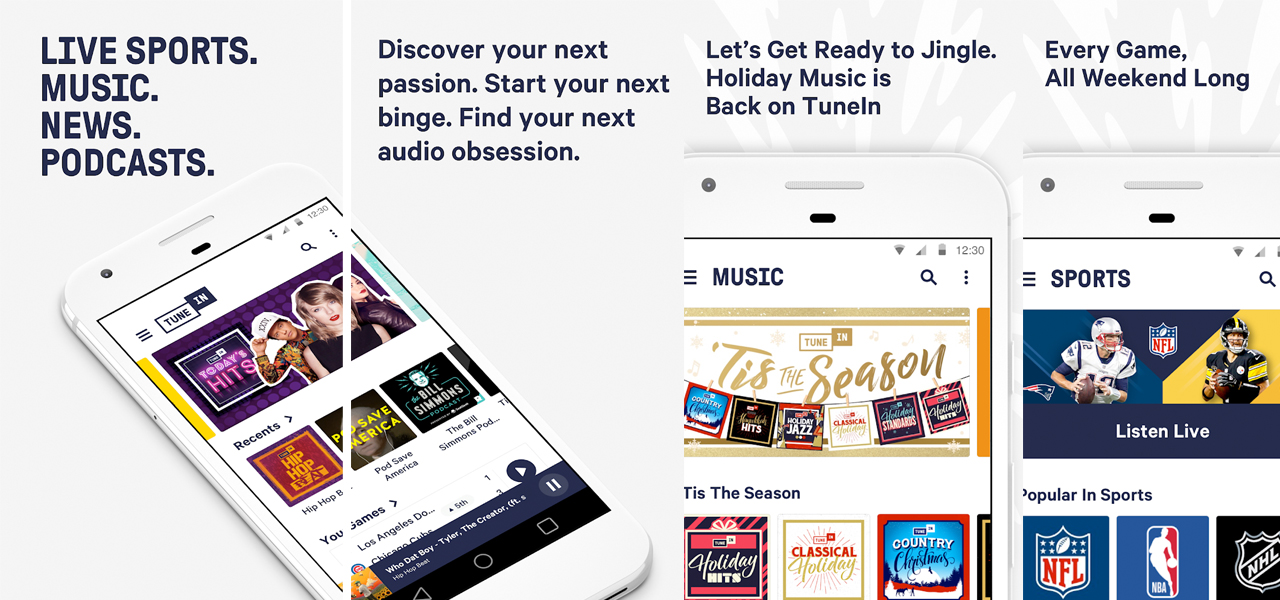 Although it is free, it does have a lot of ads which can be annoying, but with the pro version that just costs $9.99/month you can have them removed and get the option to record the shows you can't hear live.
TuneIn radio is a great entertainment app made easy.
Google Keep
Google Keep is an app that lets you quickly keep a note of whatever is on your mind via notes and list along with voice notes. With many colors available and the option to add labels on your notes, Keep makes it easier to keep things organized for future use.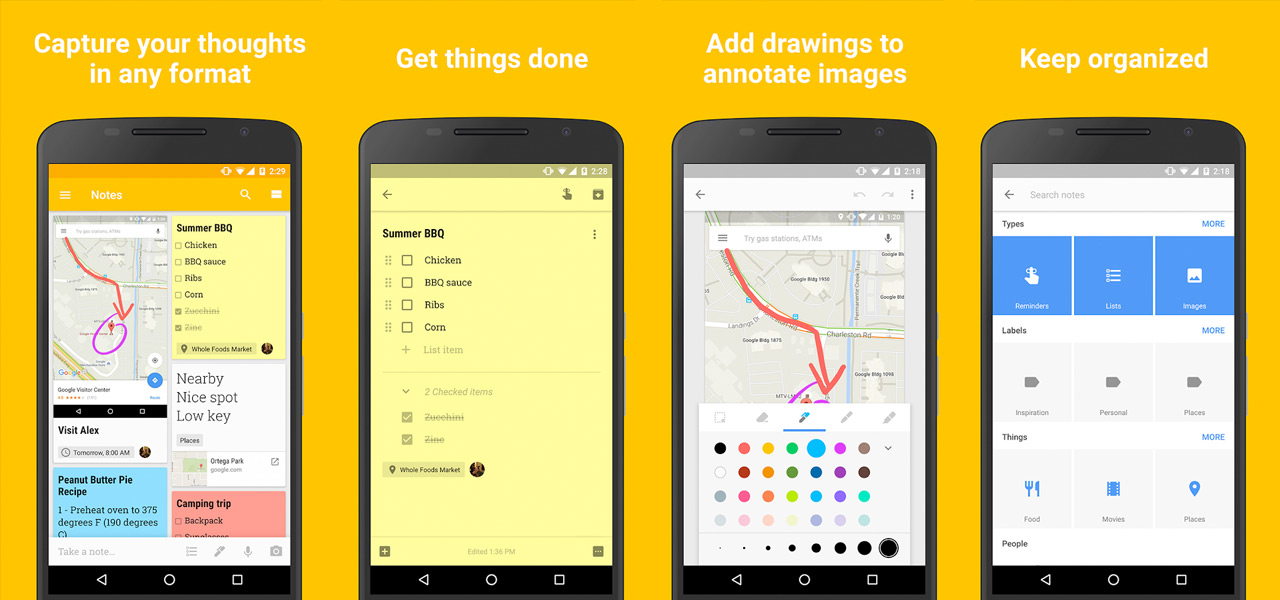 A free app that is known for its simplicity and speed, Google Keep also supports location-based reminders and lets you share your thoughts with others with just a click. Along with sharing you can also give others the invitation to edit and see the changes in real time.
One of the best features on this app for me is that it lets you add pictures and creates a sync across all your electronics. Honestly, what more could you want from an app that's essentially just there to help you keep notes?
Netflix
Netflix is the world leading subscription-based streaming service provider and rightly so. Offering not only TV shows and movies, Netflix also has some of the best original series that you could just die for, Stranger Things, The Crown, and Narcos to name just a few.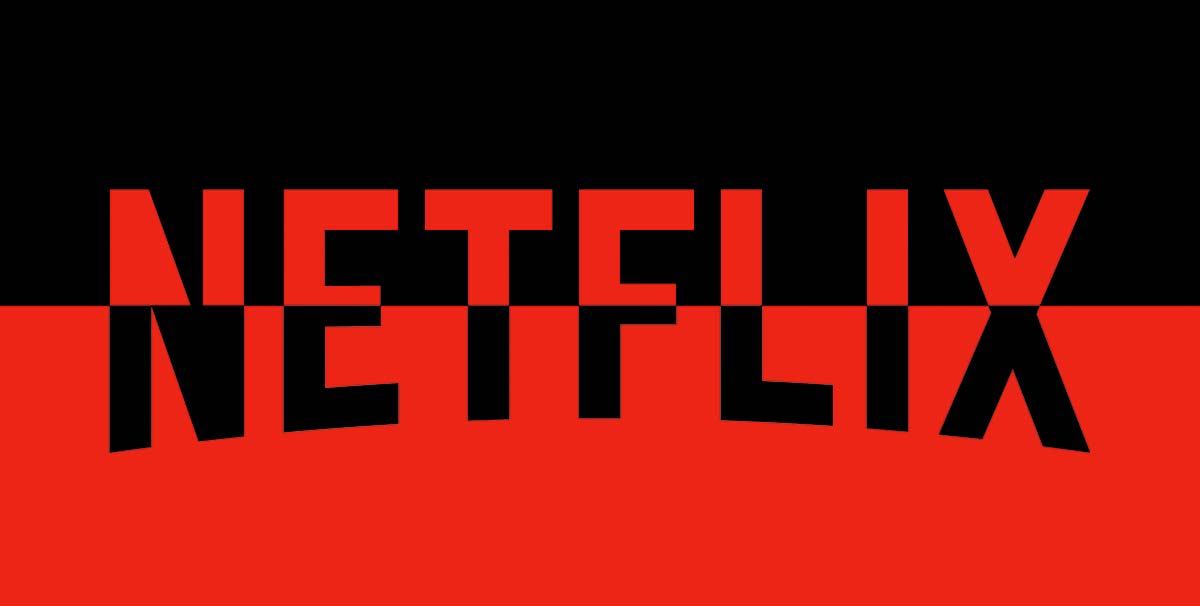 Having a monthly subscription of just $7.99, you will have unlimited access to all the of them as often as you want and anywhere you want, with absolutely no restrictions. Plus it also keeps track of what you are watching and curates a list of recommended things accordingly.
The only con of Netflix is that although it has a massive library, it is a little unstable and has geoblocking, i.e., some shows which might be available in the US Netflix might not be there in, say, England or Australia.
Pocket
An app that lets you save online content for future use is a personal favorite for me. Every so often you come across an article online that interests you but is way too long to read in your 5-minute break, and it is in these times that Pocket can come in handy. With unlimited storage, Pocket lets you curate your own space with the topics that you care about.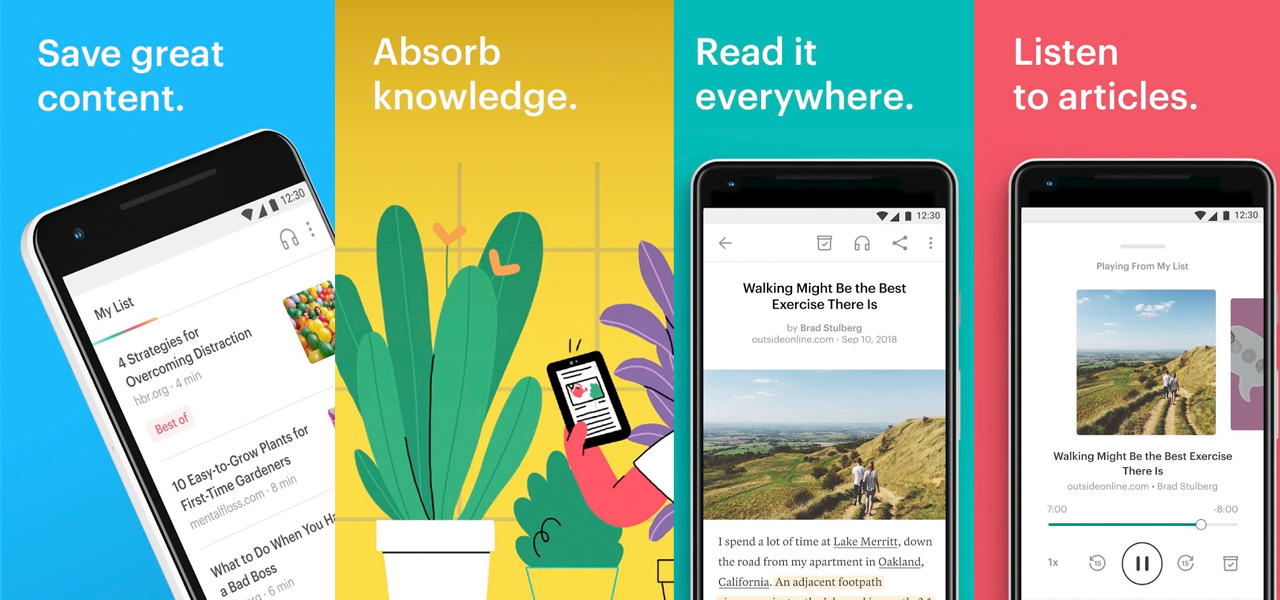 Along with tags that allow you to organize your content and the option to sync all your devices, Pocket also has an offline mode and gives you recommendations according to your taste and preferences.
Pocket lets you save articles, stories, videos, pictures, etc from any online portal in a clean layout which is customizable and even lets you listen to those written stories. Even though it is free, it offers in-app purchases to go premium which would provide you with better search capabilities and other extras.
Zedge
An app that lets you personalize your smartphone for free and make it one of a kind, Zedge offers its users with hundreds of thousands of wallpapers, ringtones and notification sounds along with stickers that you can add on wallpapers.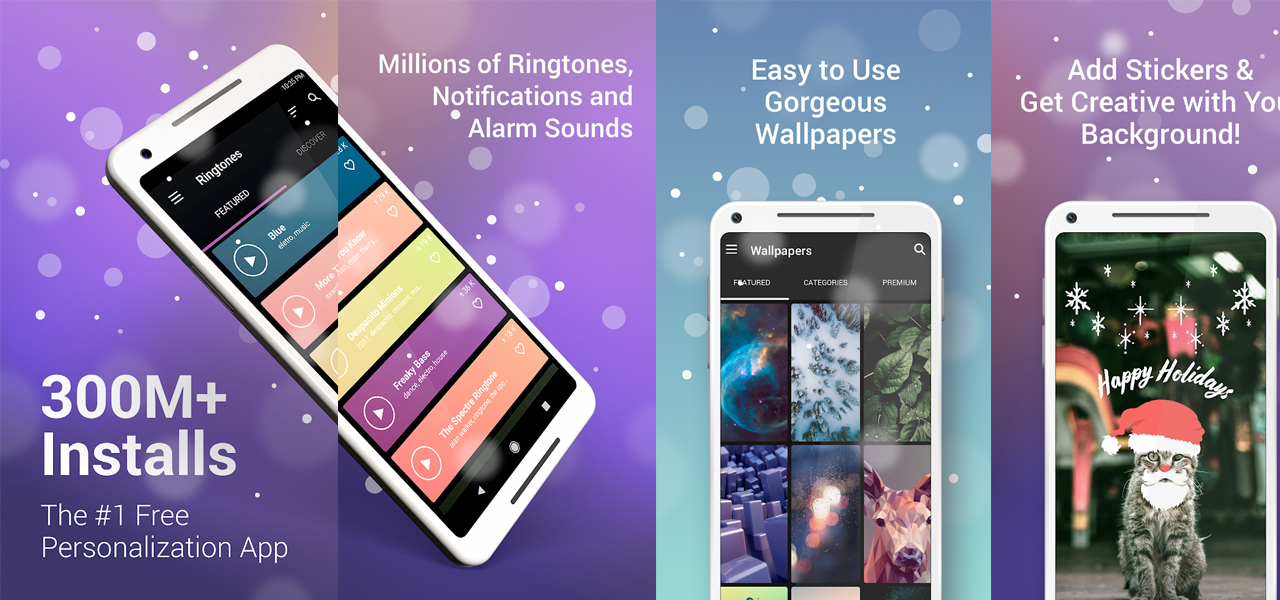 Zedge lets you view the user favorite images and even the ones which have been most recently added. It also lets you save your favourites while scrolling and enables you to view them all at the same place later on. Along with that, another feature of Zedge is that it lets you rename any app anything that you want.
PicsArt
A photo editing app is a necessity in every phone and if you get one that offers effects, collage maker, camera, free clipart library, along with customer-created stickers and drawing tools all in one it would be nothing short of getting a really good Black Friday deal.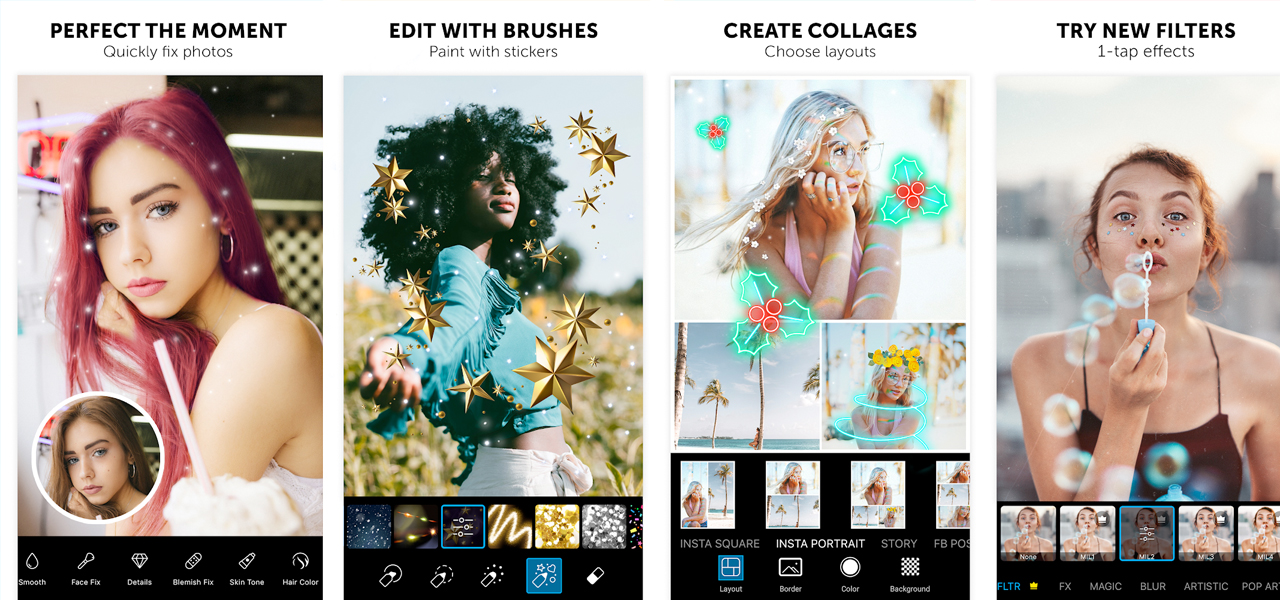 Making your photos go from ordinary to extraordinary has never been easier or more fun than with PicsArt. It lets its users take and edit pictures (even in layers!) and share them with people via social networking sites.
If you're into photography or just want to edit your pictures to make them better, then this is your app.
There you have it! The 7 apps that are a necessity to have in your phone which cover every aspect, from personalizing your phone to keeping notes or editing pictures to entertainment. The only area it doesn't cover is productivity, but don't worry, as for that I have a whole separate blog called The 21 Best Productivity Apps which can help you not only improve your concentration but also has time-saving and management apps.

Hurry, go ahead and download these apps to not waste a second of your life anymore.