The modern trade has changed in many ways due to the evolution of mobile technology. Forex traders today do not have to sit on a desk the whole day in order to trade. The current capabilities provided by apps are sufficient enough for any trader who wants to get anything from forex analysis, notification access and trading strategy deployment. All these features come at no additional costs. In fact, the kind of convenience provided by mobile trading apps is enough to give traders the maximum amount of power when trading. If you are looking for some great trading apps in 2018, there are none that beat the following five.
1. Netdania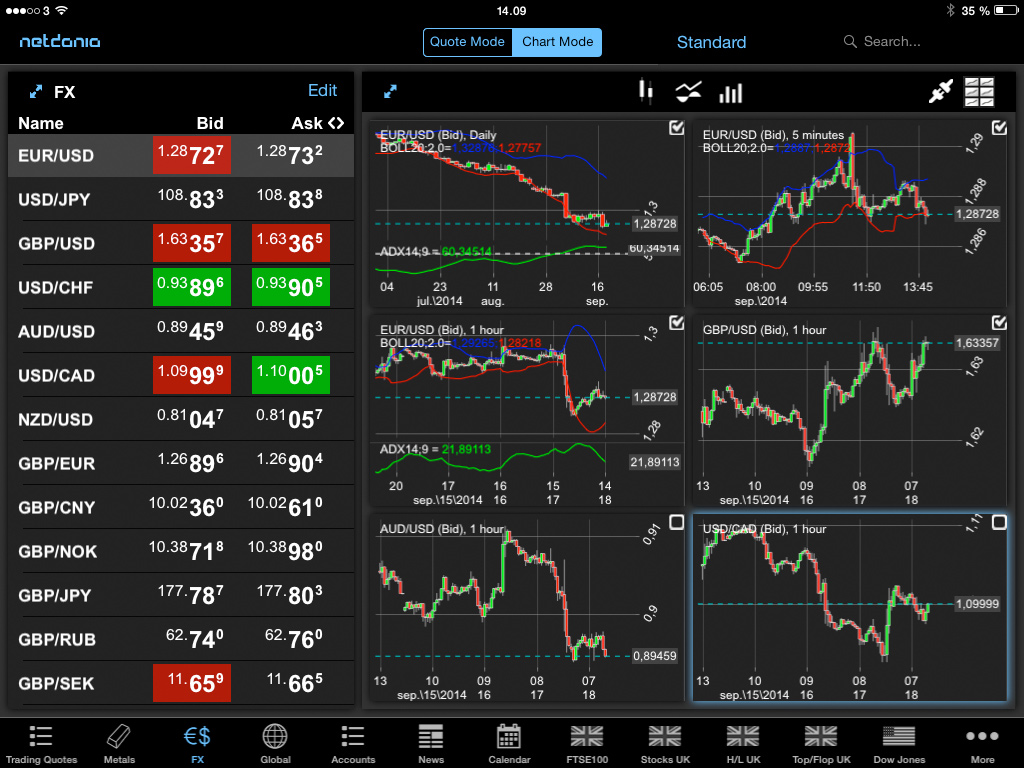 Netdania is an app that provides forex traders with a means to learn about the market and also trade. This app has a simple layout that has news updates from the market and also includes trading tips. The app makes use of a database that has tens of thousands of markets from which traders can get insights from. Other than that, it also supports other markets like the stocks market. The company behind it manages to integrate cloud technology in the platform for quick sharing of data across devices. In overall, this application is perfect for trading and receiving market news. It is available for both Android and Apple platforms.
2. MetaTrader 4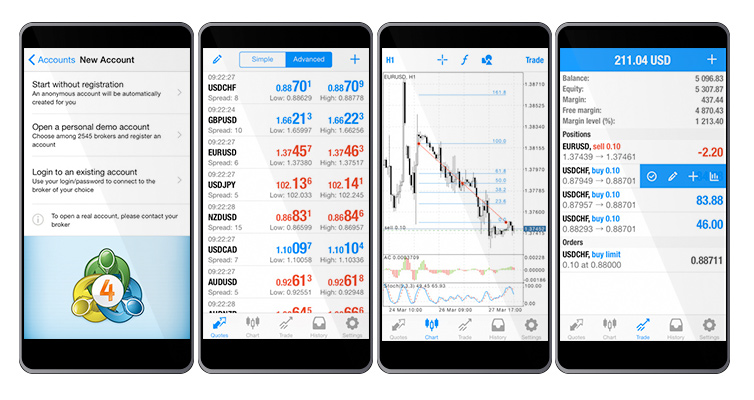 The most popular trading platform also has an option for mobile users. Metatrader for mobile is a solid platform just like its counterpart in the PC segment. The application brings the entire platform to the palm of your hands with popular features like real-time financial quotes being part of it. This MT4 version also features the full set of trade orders and users will not be limited when trading. Those looking for advanced functionality will also find it to be suitable with customization and quick switching between charts being part of the program. The app is also available on all the major mobile phone platforms.
3. Trade Interceptor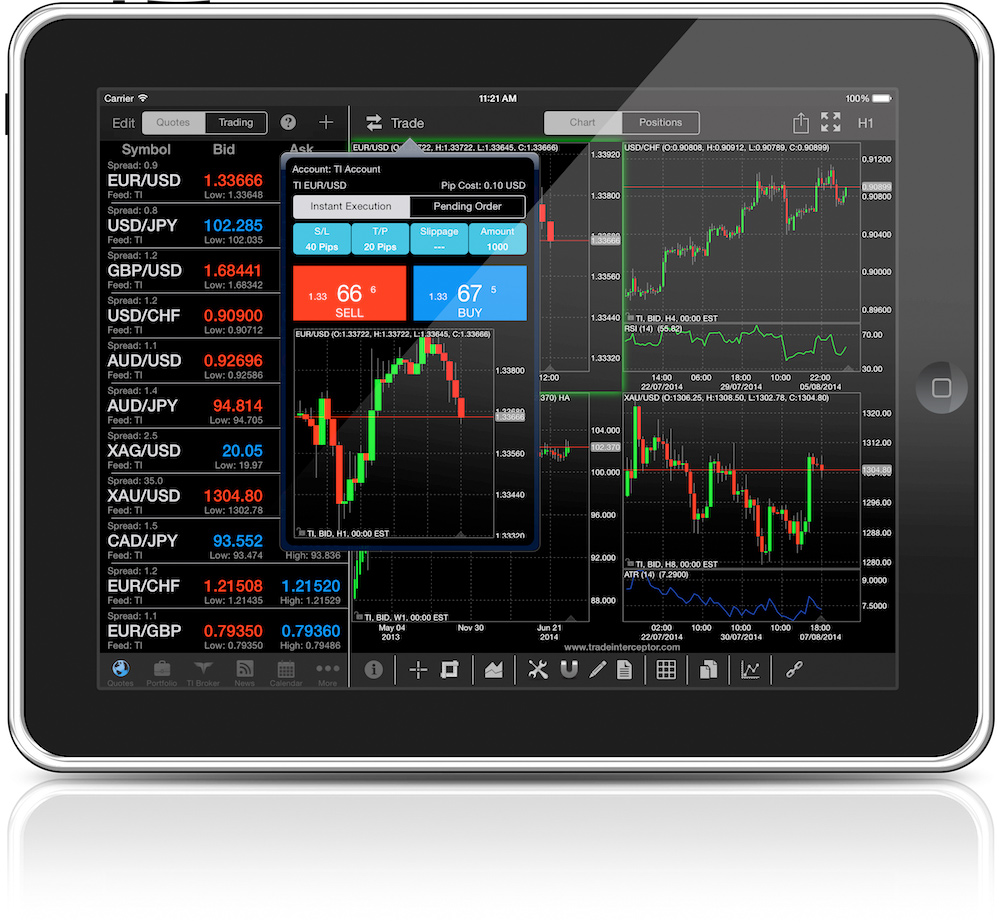 Trade Interceptor is often regarded as the quintessential king of trade analysis tools in the mobile trading category. This platform makes the process of tracking and placing trades on viable stocks so effortless. Even though the platform has not been around in the mobile scene for a long time, it has managed to get an immense number of users within a short time. Trade Interceptor is also powered from the cloud and it therefore has extended functionality. iOS and Android users can find this app on the respective platforms.
4. DailyFX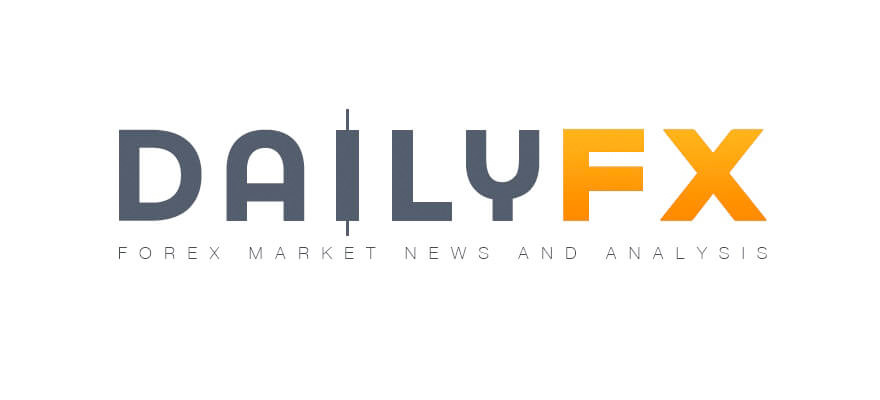 One of the key reasons that make the web version of DailyFX a preferred choice for many traders is its simplicity. This platform manages to bring that simplicity to the mobile world through an extensive and fully-featured mobile program. DailyFX supports most of the popular indices out there and it is a solid choice for forex analysis. There is also a live feed for market news which gives traders a peek into the current events of the market in general. The app interface also allows for the inclusion of a few trading tips every once in a while. All Android and iOS users looking for a simple and sufficient forex trading app can definitely go for DailyFX.
5. ForexTime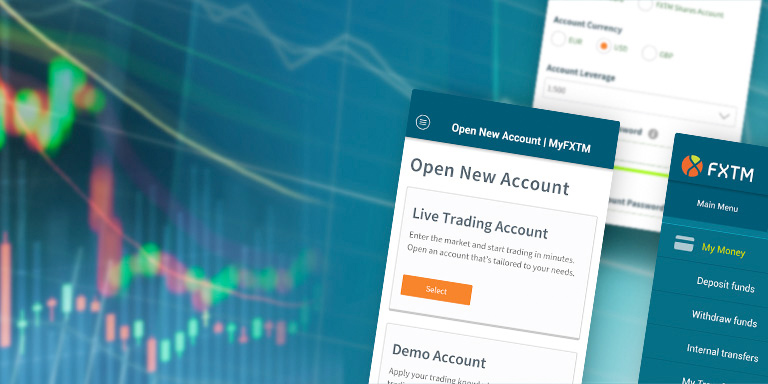 especially want to automate various aspects of the trade. The application is a great tool for both trading and management. It is also one of the few platforms designed for users of all calibers. The educational resources provided within the platform are, for instance, perfect for traders who are just getting into the profession. The automation also works great as the software is designed using the current technology. ForexTime is a great app which has centralized regulation and which can be accessed from almost anywhere in the world. The app is definitely one of the best choices for both learning and trading. It is available for Windows, Android and iOS mobile platforms.
Conclusion
In 2018, you can find so many different apps in the market for forex trading. Not all programs available are designed to handle the different needs of different users. There are however some which are clearly leaders in the market because of their effectiveness. This year, the above apps are at the top if you are looking for trading apps that are not just sufficient but excellent for trading.